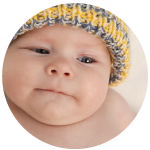 Grow your knowledge with reliable research
Over 90,000 parents have read "Well Adjusted Babies" to learn how to thrive during pregnancy, birth and beyond. Inspire your clients today.
Check out Well Adjusted Babies…

Offer a simple resource to help your clients
"Ticklish" offers simple ways to help your clients' children develop optimally. Nurture their complete health — they'll love you for it.
Take A Look at Ticklish…
Become a community healthcare leader
Dr Jennifer and her committed team of health ambassadors have created over 500+ articles (and counting!) to help your family practice thrive.