In the previous blog we discussed how it could be timely for Australia to consider a new birthing model. One that puts "women's needs" above the hip pocket of the professional groups that encourage modern births for all women. Enabling us to provide greater safety for all women. Natural births are not for all women, neither are modern high intervention births. Women should be able to choose. All births (even vaginal) involve an element of risk so women should be encouraged to investigate their options.
There is ample media spin and hype when the topic of birthing arises, with this blog I would like to present just a few statistics that encourage an inquiring mind, allowing parents to examine their preferences for labour and birth. Please remember I am not anti-intervention, births are unpredictable. I am however deeply "pro health literacy", where parents gather ample information in advance before making any health choice so that they make empowered and congruent decisions for their family. Now obviously, sometimes our noble intentions are "tested", yet there is great peace of mind knowing we prepared well for an event, for the myriad of outcomes that may arise. And what greater event is there, than to prepare for the birth of our children?
Here are some interesting points to keep in mind:
A Question Of Safety?
Often homebirths are conveniently portrayed as being extremely unsafe. According to government statistics there were 2174 foetal deaths in Australian hospitals/birth centres in 2007. Whilst there were only 3 foetal deaths relating to planned homebirths in 2007, or 99.7% of babies delivered at home were born live. i
In fact a 2007 integrative review compiled data from 28 studies undertaken between 1969 and 2000 (31 years) whereby Fullerton et al. concluded that maternal and neonatal outcomes of planned home births receiving first-level care were favorable when compared to planned hospital or birth center births.ii
In another review of six studies, Olsen found that twice as many hospital born babies had lower Apgar scores (meaning babies were less alert or stable) than babies born at home. While rates of secondary or third degree tears for mothers were significantly higher in the hospital group. The home birth group had a decreased frequency of induction (medically inducing labour), augmentation (speeding up labour), episiotomy (cutting the mothers perineum), operative vaginal birth (forceps, ventouse and/or casearean), and caesarean delivery.iii
Alternatively caesearean sections are repeatedly portrayed as being safest for mothers and babies. Some readers may then be surprised to hear that caesarean's are reported to be riskier for women than vaginal births, this includes repeat caesareans. Dr J. Morris, specialist in foetal medicine says that, "Five times as many women die after a caesarean than after a vaginal birth and there is much greater risk of infection and other post-partum problems." iv
Does A Birth Environment Influence Outcome?
A woman's birthing environment has a profound influence on her birth outcome. Women who gave birth in public hospitals reported higher levels of non-instrumental vaginal birth than those in private hospitals (62.2% compared with 43.6%). Private hospital patients had higher proportions than public hospital patients of vaginal births requiring forceps (5.0% compared with 3.2%) or vacuum extraction (10.0% compare with 6.8%).v
Many women who desire a vaginal birth after a caesarean are told that the risk of rupturing their uterus is extrememly high. Research suggests that the risk may be as low as 0.3%.vi. Repeat caseareans are extremely common and would the following figures be so high if women were not so fearful of uterine rupture? In 2007, a study on women giving birth who had previously had Caeseareans foundvii;
13.5% (had a non-instrumental vaginal birth)
3.2% had an instrumental vaginal birth.
83.3% Repeat C Section
Does Modern Birth Cause Trauma?
Many people perceive hospital births to be safe. The findings of an 8 year study however by Dr V Frymann, who assessed over 1500 hospital born babies within 5 days of their birth found that:
10% of the babies had freely mobile skulls or cranial mechanisms.
10% of the babies had severe trauma to the head, evident even to untrained observers.
80% of all the babies had strain patterns in the cranial mechanism. viii
While Dr Gutmann examined more than 1000 hospital birthed newborn infants and concluded that approximately 80% of all newborns had some form of nerve dysfunction from birth trauma. ix
Does Modern Birth Influence Breastfeeding?
Researchers Hall et al. investigated factors that led to mother baby duo's stopping breast feeding and found that vacuum vaginal delivery was a strong predictor of duo's cessing breastfeeding early.x
Avra-hami conducted computerized tomography (CT) scans of symptomatic babies and observed that poor or disturbed breast feeding is one sign of intracranial bleeding most frequently relating to vacuum extraction births.xi

Casearean Section, epidurals and pain relieving drugs have been associated with decreased duration of breastfeeding, suboptimal breastfeeding behaviour on the day of birth as well as with delayed onset of lactation and lower exclusive breastfeeding rates at discharge.xii
Mothers who utilised epidurals during birth were found – to have less interaction with baby, less mastery over motherhood, less maternal movement in labour, more malpresentations (poor positioning of babies), and often more pain that then requires more medications. xiii
Other effects of epidural use can also impact subsequent breastfeeding success. Overhydration by intravenous ?uids may result in breast oedema, which can cause latch and breast problems.xiv

While birth outcomes of 1001 midwife attended home births, found that the proportion of mothers breastfeeding in this study without supplement at 28 days postpartum was 98.6 percent xv
In addition to the birth trauma and ceasing breastfeeding as discussed above;

Are There Long-Term Effects From Birthing Methods for infants?

American Academy of Allergy, Asthma and Immunology discovered that, " A caesarean delivery may predispose an infant to atopic disease (allergies) and increased the risk of asthma." xvi

While another study showed that natural childbirth may decrease the risk of developing asthma later in life. Researchers followed 1,953 Finnish subjects from their birth in 1966 to their third decade of life in 1997. "Subjects who were delivered via caesarean were three times more likely to have developed asthma by age 31, compared with subjects delivered naturally."xvii
Are There Long-Term Effects From Birthing Methods For Mothers?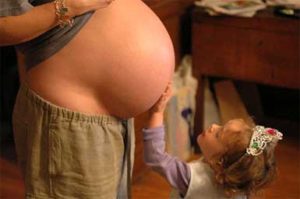 According to research, women can and do suffer adverse psychological impact after surgical birth- including grief, sense of personal failure, anger, and a feeling of betrayal from health care professionals.xviii
Another study found that a surprisingly high proportion of mothers (18.6%) continued to have low back pain more than 3 months after C Section and (12.3%) patients still had pain 10-11 months after surgery with (5.9%) reporting daily pain xix
C Section may also negatively affect subsequent reproduction: fertility outcome of the next pregnancy (uncompleted pregnancy), complications during pregnancy and birth, and health of the next infant (either because of the first or a repeat Caesarean) xx

. . .

i) Australian Bureau of Statistics:PERINATAL STATISTICS SERIES Number 23 AIHW National Perinatal Statistics Unit Sydney Australia's mothers and babies 2007 December 2009
ii)Judith T. Fullerton, CNM, PhD, Ana M. Navarro, PhD, and Susan H. Young, MA Outcomes of Planned Home Birth: An Integrative Review Journal of Midwifery & Women's Health 2007.02.016
iii)Olsen,MSc Meta-analysis of the Safety of Home Birth BIRTH 24:1 March 1997
iv)Morris J MD. Pregnancy, Childbirth and the Newborn. Australia: Hinkler Books; 2001.
v)Australian Bureau of Statistics:PERINATAL STATISTICS SERIES Number 23 AIHW National Perinatal Statistics Unit Sydney Australia's mothers and babies 2007 December 2009
vi)A Consumer Viewpoint. Choices After Cesarean Jo Bainbridge BIRTH 29:3 September 2002 203
vii)Australian Bureau of Statistics:PERINATAL STATISTICS SERIES Number 23 AIHW National Perinatal Statistics Unit Sydney Australia's mothers and babies 2007 December 2009
viii)Frymann VM. Springall P. Effect of Osteopathic Medical Management on Neurologic Development in Children. JAOA. 1992;92:729.
ix) Gutmann G. Blocked Atlantal Nerve Syndrome in Babies and Infants. Manuelle Medizin. 1987;25:5-10.
x) Hall RT, Mercer AM, Teasley SL, McPherson DM, Simon SD, Santos SR, et al. A breast-feeding assessment score to evaluate the risk for cessation of breast-feeding by 7 to 10 days of age. J Pediatr 2002;141:659 – 64.
xi) a) Avrahami E, Amzel S, Katz R, Frishman E, Osviatzov I. CT demonstration of intracranial bleeding in term newborns with mild clinical symptoms. Clin Radiol 1996;51:31– 4. b) Avrahami E, Frishman E, Minz M. CT demonstration of intracranial haemorrhage in term newborn following vacuum extractor delivery. Neuroradiology 1993;35:107– 8.
xii) Casearean Section, epidurals and pain relieving drugsdecreased duration of breastfeeding, suboptimal breastfeeding behaviour on the day of birth as well as with delayed onset of lactation,and lower exclusive breastfeeding rates at discharge.
xiii and xiv)Impact of Birthing Practices on the Breastfeeding Dyad Linda J. Smith, BSE, IBCLC Journal of Midwifery & Women's Health.2007.07.019
xv)BIRTH 36:3 September 2009 Outcomes Associated with Planned Home and Planned Hospital Births in Low-Risk Women Attended by Midwives in Ontario, Canada, 2003–2006: A Retrospective Cohort Study Eileen K. Hutton, PhD, Angela H. Reitsma, BSc, BHSc(Midwifery), and Karyn Kaufman, DrPH
xvi)a)American Academy of Asthma, Allergy and Immunology. Caesarean Section and the Risk of Asthmaand Allergy in Adulthood. J of Allergy & Clin Immun. 2001.
b) Mode of Delivery at Birth and the Development of Asthma. A population based cohort study. J. Allergy & Clin Immun. 2005;116(3);510-516
xvii)a)Xub. Pekkanen J. Hartikainen AL. et al. Caesareans and Asthma. J Allergy Clin Immun. 2001;107(4):732-3.
b) Bager, P., Melbye, M., Rostgaard, K., Benn, C. S., & Westergaard, T. (2003). Mode of delivery and risk of allergic rhinitis and asthma. The Journal of Allergy and Clinical Immunology, 111, 51–56.
xviii)a) A Consumer Viewpoint. Choices After Cesarean Jo Bainbridge BIRTH 29:3 September 2002 203
b) Marci Lobela, Robyn Stein DeLucab Psychosocial Sequelea of Caesarean Delivery (2007)Social Science & Medicine 64 (2007) 2272–2284 Psychosocial sequelae of cesarean delivery: Review and analysis of their causes and implications
xix) Chronic pain following Caesarean section L. NIKOLAJSEN1, H.C. Sorensen2, T.S. JENSEN3 and H. KEHLET4 Departments of 1Anesthesiology and 2Gynaecology and Obstetrics, Viborg Hospital, 3Danish Pain ReseActa Anaesthesiol Scand 2004; 48: 111—116
xx)Caesarean: Just Another Way of Birth?Rosemary Mander Routledge/Taylor & Francis, 2007 270 Madison Avenue, New York, New York