As our week's healthy meal plan series comes to a close, I'm happy to hear from parents amazed at the difference a week of great nutrition can make…
Kids are becoming calmer, more focussed and seem happier because of these simple solutions, so lets keep it up! Here's our final mealplan post for this series: Friday…
Breakfast
Fruit Salad with Crushed Nuts, Chia Seeds and Yoghurt with Mesquite Powder and Acai.
You will need
Whatever fruits you desire for your fruit salad, for example; watermelon, raspberries, blueberries, apples, pears, mangoes and nectarines.
Some natural organic yoghurt mixed with honey and a ¼ teaspoon of mesquite powder per person.
Some chia seeds and nuts — crushed in a blender
Method:
Prepare your fruit salad, place in a bowl, top with the premixed yoghurt, the nuts and chia seeds and finally the acai powder.
Delicious!!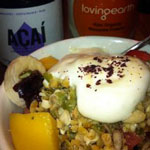 Lunch
Gluten-free Pasta with Bolognaise Sauce
Extras = Some orange, half a banana, some Kiwi-fruit, Fruit and Nut Bar and some Licorice.
"Children love Spaghetti Bolognaise, so why not send them to school with a warm thermos (or vacuum flask) full of nutrition—this Bolognaise is dynamite. There are some wonderful vegetables such as kale, which can't get much better in terms of vitamins and minerals. It keeps both our bones and our brains strong and sturdy (kale helps to combat neural damage). There are also lots of other vegetables and herbs—it's superb!!"
Again this sauce is a pre-planned extra from the evening meal the night before. In the morning I cook some pasta, heat the sauce and put it all in a small thermos. At school the boys pour the pasta into the lid of the thermos.
SPAGHETTI BOLOGNAISE PASTA  (recipe from Lunchbox Solutions)
Ingredients:
1–2 tablespoons coconut oil
2 medium onions, finely chopped
2 carrots, peeled and finely chopped
1 cup finely chopped celery, approximately 2 medium stalks
3 cloves of garlic, finely chopped
½ cup finely chopped fresh Italian parsley
1 cup of finely chopped kale or silver-beet (Swiss chard)
1 cup of finely chopped spinach
1 tablespoon dried oregano and/or thyme
500 grams (18 ounces) minced beef (ground beef)—you can also substitute with minced lamb or chicken
2 cups diced, uncooked tomatoes (you can substitute with two cans of tomatoes if you are in a hurry)
Sea salt and pepper, to taste
1–2 tablespoons honey or agave syrup (optional)*
1–2 cups water
1 tablespoon finely chopped fresh basil
1 teaspoon sea salt
1 packet (500g) dried spaghetti or penne pasta (you can use gluten-free
2 tablespoons olive oil
A few whole leaves of basil (for garnish)
100 grams (1 cup) parmesan cheese (for garnish)
Pepper, to taste
Method:
Heat the coconut oil in a large sauce-pan on medium heat. Add the onion, carrots, and celery and gently simmer, stirring occasionally, for 5-10 minutes, or until softened.
Add the garlic, parsley, kale, spinach, oregano and/or thyme, and continue cooking for 1 minute while stirring.
Add the minced meat, breaking it up with a spoon, and cook for 5 minutes or so until browned.
Add the tomatoes, salt and pepper, honey or agave syrup and half the water.
Bring to boil and cook for 10 minutes, then turn the heat down and simmer with a lid on for 1 hour, stirring occasionally. Add the remaining water as needed, to keep the sauce moist.
When the sauce is almost ready (in the last 15 minutes of cooking time), add the chopped basil.
Fill a large pot with water to cook the pasta (about three-quarters full) and add the teaspoon of salt.
Bring the water to the boil and add the pasta. Boil on high heat until al dente (cooked through but firm to bite).
Drain the pasta. Stir through the olive oil.
To serve, divide the pasta between the plates and spoon equal portions of the sauce over the pasta. Sprinkle with the parmesan cheese and garnish with basil leaves—bellissimo!!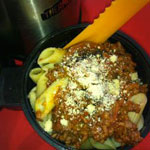 Notes:
Adding a little sweetener like honey or agave syrup to your tomato-based sauces helps to balance the acidity but it can be omitted if you prefer a strong tomato flavour.
If you are making this pasta for lunchboxes, you can make the sauce the night before and refrigerate until needed. In the morning, cook the pasta, re-heat the sauce and combine together. Pre-heat and fill the Thermos (vacuum flask), then grate a little parmesan cheese on top and secure the lid to keep the food warm.
If you're pushed for time in the morning, you could make the pasta the night before and re-heat both the sauce and pasta in the morning. The pasta and sauce will keep for 3 to 4 days in the fridge.
. . . . .
From the desk of…
Jennifer Barham-Floreani
Bach. Chiropractic, Bach. App Clinical Science
Registered internationally, no longer practicing as a chiropractor in Australia.
. . . . .