Well, well, we are back from the U.S. and back into the swing of things having had a fabulous time.
We started off in Las Vegas with a conference where we had wonderful support and promotion of Well Adjusted Babies with our U.S. crew handling things so professionally and the response was extremely successful. Even though each country varies in its cultural habits there are global health problems common to all families and there is such comfort in knowing that we are able to create products that support and help parents, irrespective of their zip code or post code. That brings me great pleasure.

Americans truly are a friendly, good natured bunch.
I love their, "Absolutely, let's do it" no limits attitude. They tackle everything with 150 % gusto and 'CERTAINTY' that tends to – well, for the most part, frigthen humble Australian's !!!!

Through spending more and more time with Americans though, I must admit not only do I adore their confidence, I now find it quite endearing.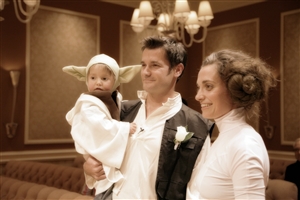 After the conference we then had a few days in Vegas before we headed to L.A. In fact we had just enough time in Vegas to GET RE-MARRIED!!!

Well it's what you do when you are in Vegas isn't it??
My groom spent many hours on the phone before we left Australia arranging a glamourous RENEWAL ceremony at the very beautiful Wynn Hotel where we were staying. NO TACKY VEGAS CHAPEL for us! Mind you, we did dress up with a STAR WARS theme. Yes, yes that was the boys pick – they don't really know Elvis – so he was scraped off the list!! Simon is also a big Star Wars fan so from the photos you will see he really hammed it up.
The ceremony was both beautiful and hilarious. Complete with Arlo dressed up as Yoda, Quin as Anakin Skywalker, Nelson as Darth Sidious (his pick!!), Wilem as a Star Trooper, Simon as Hans Solo and yours truly with cinamon rolls included – Princess Leia.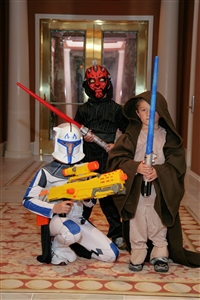 The boys were so excited, and aside from Disney Land I think the wedding was also the high-light of the trip for them.  Las Vegas is not only a wild place to get re-married, you can travel 'around the world' for your honeymoon as well. Between The Venetian Hotel, The New York, New York Hotel, Caesars Place, Paris Las Vegas, The Sphinx at Luxur – you can see the world just by walking the Strip!!
I will declare now that personally I did not feel that 2 days was enought time to shop in Vegas!! Both the boys and Simon will disagree – but trying to lug four children around was neither ideal nor easy.  It is distressing. They would drag me back to the hotel, salivating and cursing the shops I had to for-go!! For all the girlfriends I promised shoes or handbags I am truly sorry – there just wasn't enough time!!!
From Vegas we hit KID HEAVEN – Los Angeles.
We did Disney Land, Adventure Land, Lego Land, San Deigo Zoo, Sea World – you name a theme park or a kid venue – and we did it!!! By the evening, completely exhausted, we would all collapse into bed together and watch telly and that in and of itself, was a true delight because we simply don't watch television any other time then when on holidays.
Okay yes I will admit whilst in L.A. I did drag the boys down Rodeo Drive for a small stint of shopping. Just for a few hours – that was until we almost lost two of our children who were playing with the fountain within the Ralph Lauren Store, but then they decided we must have left the store without them (okay I was taking a looooooong time) and they decided to stroll down the street looking for us!  After we found them and after I stopped hyperventilating, I promised no more shopping.
Travelling through the U.S. while extrememly exciting did surprise us in many ways. Americans do lots of things extremely well, theme parks,(well entertainment full stop really), security, customer service, how they cater for families etc, etc.
What surprised us though is that for such an abundant country the sheer lack of healthy food options!! Can you imagine me the Food Nazi after Day 3, "Okay if I don't find a restaurant that serves a vegetable other then potatoes, I'll screeam!!!!"

All I can say is GOD BLESS (and DOUBLE BLESS), "WHOLEFOODS". While not purely organic at least everything in this supermarket is fresh and in season !!!!! Oh the delight I would have going into a "Wholefoods" every second or third day and stocking up on apples, celery, carrots, mandarins, salads, hot soups. Now I can't quite remember if I knelt down and kissed the "Wholefoods" ground or kissed the "Wholefoods" staff, but I may have. Well that is until I had my handbag stolen whilst shopping there and that's another story, but it does show you how distracted I became with finally finding some fresh, healthy food to feed my family.

Highlights of the Trip
* Getting remarried with all the boys present
* Meeting so many caring American and Canadian Chiropractors.
* Disney Land really is fabulous
* Getting absolutely drenched, soaked to the bone by the killer whales at Sea World.
* Wholefoods Supermarkets
* The Chopra Centre – yeh some healthy meals!!
* Seeing my boys nearly wet their pants over the abundance of Star Wars Lego at LegoLand
We had a wonderful holiday and are truly looking forward to spending more time in the U.S.
Thank you to all who made our stay so enjoyable and fruitful.

Enjoy the photos!