Here's a few ideas to keep things in perspective this weekend…
Are you a little dubious of getting wrapped up in the Christmas madness? Are you also feeling that sometimes Christmas seems to be more about purchasing gifts and ticking a To-Do List than actually genuinely 'thanking' important people in your life for their friendship and support in 2013.
Do you also find that you have a list of close friends and family that you have been planning beautiful gifts for but then you are still guessing what to buy other people whom you don't really know that well?
An example for me would be the boy's teachers, our friendly courier, our trainer — people who have played a significant and important role in our family's year — to whom we'd like to give something a little more meaningful than chocolates or a candle. (By the way if you've already bought a box of 'Favourites' for your child's teacher please don't feel bad, I'm just procrastinating attending an enormous pile of work on my desk by noting some other creative ideas for you).
This year, rather than rushing about buying oodles and oodles of presents, we decided that creating some homemade gifts with the boys might make for a refreshing change.
I have included a fabulous recipe (and step by step photos) for some delicious and healthy 'Christmas Paleo Balls' that the boys and I made.
I admit I did alter my girlfriend Michelle's original recipe by adding more dates to make them a little bit sweeter as I was concerned some of the recipients who are used to receiving white, sugary Christmas shortbreads, might freak out at the mere thought of having to sample a sugar-free, dairy-free, grain-free little ball — or potentially anything of that nature!!
These balls are perfectly sized, scrumptious snacks that are super good for you. Check out the ingredients and their health benefits below as they are absolutely gold-star nutrition! We love them and have a sneaking suspicion you will be regularly making these as well. Perhaps try the different variations too. The other great thing about these balls is that they keep for ages in the refrigerator.
Recipe: Power Packed Paleo Balls
These balls not only make for a scrumptious little snack but they also offer hearty nourishment for busy people.
Even those of us focused on eating healthy foods can be prone to acidity. Diets high in acid-producing foods and lifestyle habits that promote acidity in the body, such as stress and lack of sleep, disrupt the body's natural balance and promote the loss of essential minerals such as potassium, magnesium, calcium, and sodium, as the body tries to restore equilibrium. This imbalance is thought to make people prone to illness and a number of chronic diseases. 
These balls help the body alkalise and offer essential nutrients — please see further information below regarding Mesquite powder, Maca powder and Vital Greens powder.
Prep Time: 15 minutes
Makes: 40-45 balls depending on size
3 cups of raw nuts (I used a mixture of pistachios, almonds, macadamias, brazil nuts, cashews)
3/4 cup pepitas
1/4 cup sunflower seeds
1/4 cup chia seeds (I used a combination of white and black)
3/4 cup cacao powder or cacao nibs (Half powder & half nibs works well too)
3 heaped tablespoons mesquite powder
2 tablespoons maca powder
16 medjool dates or 2 cups pitted dried dates soaked in a small amount hot water (drain liquid before adding to blender.)
1/4 cup goji's
1/2 cup coconut oil (as a liquid)
1-2 scoops Vital Greens pea protein powder (optional)
1-2 teaspoons of coconut water or filtered water
Method:
Add the nuts into your food processor or Thermomix and blend on high speed until you have a powdery consistency.
Pour this mixture into a large bowl.
Add all of seeds (except chia) and cacao nibs into the processor and blend again for a few seconds. Pour this into the nut mixture and combine.
If you want your balls to be extra smooth rather then a little crunchy, simply blend for a few extra seconds.
Then add the dates, goji berries, chia seeds, mesquite and maca powder to the food processor and blend until smooth. You can now place some of the nut mixture back into the blender with the date and goji puree and add the coconut oil blending until the mixture becomes sticky.  Alternatively empty the contents from the blender into your bowl, add remaining ingredients and mix thoroughly.
Test consistency (the mixture is the right consistency if it holds together when squeezed).
— If it is too dry, add some coconut water or filtered water slowly.
— If it is too wet, blend up some more nuts and seeds.
Roll mixture into balls and store in an airtight container in fridge.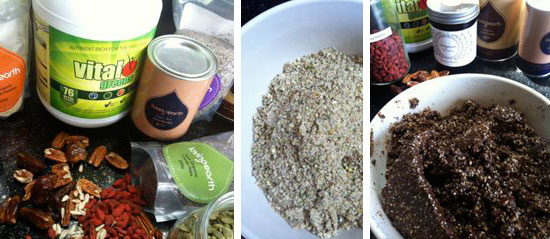 Here are some benefits of some of the ingredients…
Mesquite Powder — Is a natural protein powder! 
Used as a staple food for centuries by desert dwellers, this Traditional Native American food is high in protein and contains good quantities of calcium, magnesium, potassium, iron and zinc. It is rich in the amino acid lysine as well. Its low GI of 25 helps maintain stable blood sugar levels. It has a sweet, distinctive wild flavour with a hint of caramel, which blends well into smoothies or other drinks, especially those made with cacao and maca. Available from Loving Earth.
Maca Powder — For ENERGY! 
Maca Powder is an energising and revitalising superfood of the Incas that is literally bursting with vitamins, minerals, enzymes and all the essential amino acids. Maca contains unique alkaloids, which help stimulate the master glands that in turn may help op- timise and balance the entire endocrine system. It's wonderful for hormonal issues, but we recommend you consult your health practitioner prior to taking. Maca powder is not recommended during pregnancy or if you are breastfeeding. It is advised not to heat Maca. Available from Loving Earth.
Vital Greens — Power Up and Alkalise
We love to incorporate Vital Greens and Vital-Protein concentrated powders in our week partly because these products use Golden Peas in their range which is a vegetable based complete protein (unlike other protein powders) and have the most balanced amino acid profile of any plant based protein. This 'Pea Protein' is highly alkaline and helps to address digestive conditions and poor absorption—it is suitable for children and those who suffer from allergies and have restricted diets."
Secondly, we love that this company (available through Martin and Pleasance) uses naturally occurring whole food sources of vitamins, trace minerals, antioxidants, probiotics (in the Vital Greens range), essential amino acids, omega-3 and omega-6 essential fatty acids, digestive enzymes, cell pigments, plant sterols and fibres, and put them all together in easy powders.
Other Christmas Ideas
This year we also decided to make all of our own wrapping paper and committed to writing heart-felt Christmas cards. The mere act of writing some of these cards has also been nothing short of hilarious — one of my boys has clashed with his teacher all year and the process he went through to write her a gratitude card had us all in stitches of laughter. Lets just say it took him three days to come around to the idea and it was absolutely gorgeous to watch him realize that the qualities he found frustrating about his teacher are qualities he sometimes finds frustrating about himself.
Initially I offered examples from my life where I chose to be irritated by someone and then decided to look in the mirror and observe where I was exactly like that person. We talked about blame and taking responsibility, and tried to keep it all very lighthearted but useful. It's an amazing process and very worthwhile.
For me Christmas is about appreciating the beauty in my life and sometimes that beauty lies in contemplating whom we are judging and where we are indeed judging ourselves.
I find it useful to remember we are all doing the best we can with the knowledge and skills we have in the current chapter of our life.
The trouble is that these judgements (or frustrations with 'challenges' that our life may present for us) distract us from what is really important — our values, the way we respond to people or situations and our vision.
Remember to keep things in perspective while you tackle the silly season.
Enjoy!
. . . . .
From the desk of…
Jennifer Barham-Floreani
Bach. Chiropractic, Bach. App Clinical Science
Registered internationally, no longer practicing as a chiropractor in Australia.
. . . . .