With winter well and truly upon us, finding inspiration to source and provide simple, wholesome food the whole family will love can feel especially challenging. Here are a few recipes to throw into your repertoire and keep things interesting, hearty and healthy…
Spicy winter vegetable soup with coconut sambal
Take advantage of what's in season and whip up this easy soup…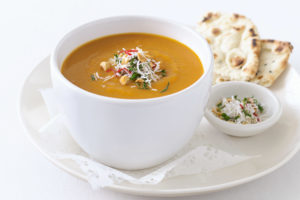 Serving size: Serves 4
Cuisine type: Vegetarian
Cooking time: Preparation 15mins/ cooking 25mins
Course: Main
Ingredients:
2 tbs olive oil
1 large leek, thinly sliced
2 tsp finely grated fresh ginger
2 garlic cloves, crushed
2 small red chillies, seeded, chopped
1 large (about 780g) orange sweet potato (kumara), peeled, coarsely chopped
1 small (about 250g) swede, peeled, coarsely chopped
1 litre (4 cups) vegetable stock
1/4 cup (20g) shredded coconut
1 tbs chopped roasted peanuts
1 tbs shredded mint
4 naan bread, to serve
Method:
Heat oil in a large saucepan over low heat. Add the leek, ginger, garlic and half the chillies, and cook, stirring, for 5 minutes or until soft. Add the sweet potato and swede and cook, stirring, for 2 minutes or until lightly brown. Add the stock. Increase heat to high and bring to the boil. Reduce heat to low and simmer for 15 minutes or until vegetables are very soft. Remove from heat.
Place half the potato mixture in a blender and blend until smooth. Return soup to a clean saucepan. Repeat with remaining mixture. Season with salt and pepper. Return to the boil to reheat.
Combine coconut, peanuts, mint and remaining chilli in a small bowl. Ladle the soup among serving bowls. Sprinkle with coconut sambal and serve immediately with grilled or barbecued naan bread.
Notes
Other winter vegetables will also work well, such as carrots, parsnip or pumpkin.
Lentil bolognaise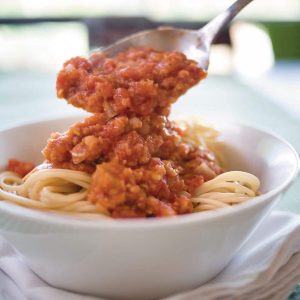 Amazingly easy vegetarian version of an old favourite. Sure to please meat-eaters, too!
Serving size: Serves 4
Cuisine type: Italian
Cooking time: More than 1 hour
Course: Main
Ingredients:
1 tablespoon olive oil
1½ cups dried green/brown lentils, rinsed
2 brown onions, chopped
4 cloves of garlic, chopped
1 carrot, diced
1 red capsicum, diced
8-10 small mushrooms, sliced
10 black pitted olives
4 tablespoons dried oregano
4 tablespoons dried thyme
2 small cans diced tomatoes
½ cup tomato paste
2 cups red wine
1 cup vegetable stock
salt and pepper, to taste
spaghetti, made as per instructions on the packet
Method:
Sauté onions and garlic in a tablespoon of olive oil until soft. Add lentils and mix. Add all other ingredients and simmer for approximately 1 to 1½ hours or until the sauce has thickened and lentils have cooked.
Serve over hot spaghetti and enjoy!
Winter veg crumbles

Leave out the pancetta for a vegetarian version, if you like…
Serving size: Serves 6
Cuisine type: Modern Australian
Cooking time: Less than 60 minutes
Special options: Vegetarian
Course: Main
Serves 6
Ingredients:
2 carrots, peeled
1 small white or orange sweet potato, peeled
½ small celeriac, peeled
1 parsnip, peeled
1 tbsp butter, plus a little extra to grease dishes
1 bay leaf
100g pancetta, diced finely
4 green onions, chopped, keeping whites and greens separate
3 tsp plain flour
250g crème fraîche
1 garlic clove, crushed
¼ tsp freshly grated nutmeg
Salt & ground black pepper
Crumble topping:
3 tbsp butter
2½ tbsp plain flour
1/3 cup ground almonds
1/3 cup finely grated parmesan
¼ tsp finely chopped rosemary
Green salad, to serve
Method:
1. Prepare vegetables Preheat oven to 190°C (170°C fan). Lightly grease gratin dishes or ramekins. Cut carrots, sweet potato, celeriac and parsnip into 1.5cm cubes. Half fill saucepan with water and bring to boil. Add vegies and cook for few mins, until just tender. Drain, keeping aside cooking liquid for use in Step 3.
2. Cook pancetta Melt ½ tbsp butter in clean saucepan over medium-high heat. Add bay leaf and pancetta and cook for a few mins, or until pancetta is starting to brown lightly. Add onion whites and cook for 3 mins, until softened. Remove mix from pan and set aside with vegies.
3. Make sauce Melt remaining butter in second saucepan and add flour, stirring well to combine. Gradually add ¾ cup of reserved vegetable cooking liquid, stirring until smooth. Carefully stir in crème fraîche until smooth, then add garlic and grated nutmeg. Season with salt and a little black pepper. Add vegetable mixture and onion greens and mix well. Divide between prepared dishes or ramekins.
4. Make crumble topping Rub butter into flour with fingertips until mixture resembles breadcrumbs. Stir in almonds, parmesan and rosemary. Divide topping evenly over vegetables in dishes and cook in oven for 5 mins, or until crumble is golden.
5. Serve vegie crumbles in 6 x 1½-cup capacity gratin dishes or ramekinstheir dishes with green salad on the side.
Brown lentil chilli
This warming chilli is great served with baked potatoes or rice. Be careful to warn guests about the whole chillies, or take them out as you serve out portions.
Serving size: Serves 4
Cuisine type: Vegetarian
Cooking time: More than 1 hour
Course: Main
Ingredients:
1tbsp sunflower oil
1 onion, chopped
2-3 cloves garlic, crushed
1tsp cumin seed
1tsp coriander seed
2 sticks celery, chopped
2 carrots, peeled and diced
1 red or green pepper
8oz / 225g courgettes, diced
8oz / 225g mushrooms, chopped
6oz / 175g brown lentils
3 whole dried chillies
2tsp chilli powder
14oz / 400g tin chopped tomatoes
1tbsp tomato puree
2 pints / 300ml vegetable stock
½tsp ground cumin
salt and pepper
Method:
1. Heat the oil and fry the onion and garlic until quite soft.
2. Add the cumin and coriander seeds and cook until the seeds begin to pop.
Add the vegetables and sweat for about 10 minutes.
3. Add the lentils, chillies and chilli powder. Stir in well and cook for 2 minutes.
Pour over the tomatoes and stock or water.
4. Stir in the tomato puree and boil. Simmer for 50-60 minutes.
5. Add more stock if necessary.
Add the ground cumin, season to taste and cook for another 10 minutes.
Lamb Curry
Serving size: Serves 4
Cooking time: Prep 25mins/ Cook 45mins
Course: Main
Ingredients:
1 tablespoon vegetable oil
250 g boneless lamb, trimmed and cut into 2 cm cubes
1 medium onion, peeled and thinly sliced
2 tablespoons curry powder
2 cloves garlic, peeled and crushed
1/4 cup plain flour
1 1/2 cups chopped potato
1 1/2 cups beef stock
1 cup sliced celery
1/2 cup grated carrot
1 tablespoon firmly packed light brown sugar
1 teaspoon each dry mustard and ground ginger
1/2 teaspoon salt
1/4 teaspoon crushed dried chilli flakes
Hot cooked rice, to serve
Boiled green peas, to serve
Cashews and/or peanuts, shredded coconut, raisins and chopped preserved ginger, to accompany
Method:
Heat the oil in a large frying pan on medium- high heat. Add the meat, onion, curry powder and garlic and cook for 10 minutes, or until the meat is browned. Stir in the flour. Stir in the potato, beef stock, celery, carrot, brown sugar, mustard, ginger, salt and crushed chilli flakes. Bring to the boil. Reduce the heat and simmer, covered, for 30 to 40 minutes, or until the meat is tender.
Serve the curry with hot cooked rice and peas. Accompany with bowls of nuts, coconut, raisins and chopped preserved ginger.
Beef Stroganoff
Serving size: Serves 4
Cooking time: Prep 10mins/ Cook30-40mins
Course: Main
Ingredients:
1kg blade steak, sliced across the grain (about 1cm wide), or use beef stir-fry strips
1 onion, cut into thin wedges
2 cloves garlic, crushed
200g button mushrooms, thickly sliced
1 tbsp tomato paste
2 cups beef stock
½ cup sour cream
1 tbsp Dijon mustard
2 tsp cornflour
To serve, pasta or egg noodles, fresh dill or chives (optional)
Method:
1. Preheat oven to 180°C. Season the beef with salt and pepper. Add a little oil to the beef strips, mix well.
2. Heat a wok or frypan, ensure it is hot. Stir-fry the beef in 3 batches, remove each batch and place in a casserole dish. Add a little oil to pan, add onion, garlic and mushrooms and cook for 2 minutes or until onions softens. Add the tomato paste and stock, stir until the mixture boils. Pour over the beef in the casserole dish and stir to combine.
3. Cover the casserole dish, place in oven, cook for 30 – 40 minutes or until beef is tender. In the last 10 minutes of cooking time, stir in the combined sour cream, mustard and cornflour. Serve with pasta or egg noodles and sprinkle with chopped dill or chives.