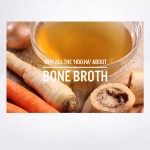 A short eBook written by Jennifer Barham-Floreani. Jen outlines the benefits of consuming a home cooked, wholesome bone broth, as well as teaching readers how to use and create their very own bone broths. Features 10 easy to follow recipes that are suitable for the whole family. This eBook can be viewed on all computers and hand held devices.

*Buy a Well Adjusted Babies and you will receive a Which Foods When Brochure and a copy of our brand new Bone Broth eBook FREE! For three days only.

Known as "the new parenting bible", this Australian Best-Seller offers the most unique collation of cutting-edge information and knowledge on holistic parenting — all in the one book!