Sometimes we just crave "comfort" foods. There are days we'll resist the lure of these tempting foods and there are other days we need to make damn sure we have a few healthy recipes up our sleeve so we don't fall to far from the health band wagon.


Andrea (Well Adjusted's General Manager) and I were trading recipes the other day and she mentioned her Paleo Choc-Cherry Cookies, they sounded Divine and I figured it's best to share the love.

These cookies are simple to make and jam packed with nutrient-rich ingredients. Commerical or regular chocolate isn't great for our health, they are typically high in sugar and additives, that's why I recommend making the switch to Raw Cacao (i.e dark chocolate with 80% cacao or higher) if you need something to tame your chocolate cravings. Cacao has a rich antioxidant content, which helps to protect our cells from free radical damage. Cacao is also known for the happy, blissful feeling it gives you. This comes from its high levels of Tryptophan which is a precursor for serotonin, the PEA (phenethylamine) a precursor to dopamine (aka the 'love chemical') and anandamide (aka the 'bliss chemical'). In fact cacao is the only food known to contain anandamide.

Finally, cacao is a rich source of minerals, particularly Iron and Magnesium which supports healthy energy levels and can also assist with PMS symptoms in women.

Enough said! I'm sure none of us need anymore convincing to try out this recipe!

Ingredients:
Makes: 12-14

1 cup Pecan Halves
1 cup Medjool Dates, pitted (about 12)
4-5 tbsp Cacao Powder
¼ tsp Himalayan Salt
½ tsp Baking Powder
1 tsp Vanilla Powder
2-3 tbsp Coconut Cream
1 free range Egg
1 tbsp Chia Seeds or Flax Seeds (mix seeds with 3 tbsp of water, then add)
¼ cup Cacao Nibs
¼ cup Shredded or Flaked Coconut
¼ cup Dried Sour Cherries

Method: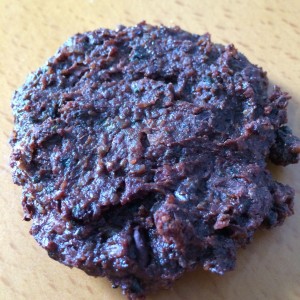 1. Preheat the oven to 180C and line a baking sheet with parchment paper.

2. Grind a tablespoon of flax (linseeds) or chia seeds and combine in a bowl with 3 tablespoons of filtered water. Set aside.

3. Put the pecans and dates into a food processor and pulse until you've made a sticky crumble.

4. Add the cacao powder, salt, baking powder, vanilla, flax egg and coconut cream and pulse again until you've made a thick batter. If the batter feels too thick, add some more coconut cream to loosen to a thick cookie dough type consistency.

5. Add the cacao nibs, coconut flakes, chocolate chips and sour cherries and pulse to combine.

6. Take heaped tablespoons of the mixture and place onto the baking tray, pressing out into discs with wet fingers. The dough won't spread like a traditional cookie so you'll need to press it out to around 8-10cm diameter.

7. Bake for 12-15 minutes or until the choc chips have melted.

8. Leave to cool on the baking tray for 5 minutes, then transfer to a wire rack.

9. Once cooled, store in the fridge.


Enjoy!
. . . . .


Yours in Health,


Jennifer Barham-Floreani
(Bach. Chiropractic, Bach. App Clinical Science
Registered internationally, no longer practicing as a chiropractor in Australia.)

. . . . .