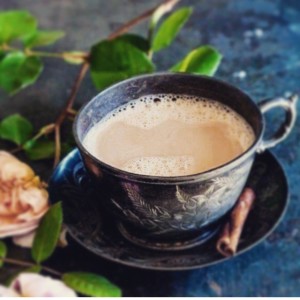 Chai tea  is a spicy, warm beverage traditionally made from some of the world's most medicinally active herbs. There are many different versions of Chai floating around, some with a more modern spin on the original forumla, but the basic components  include  black  tea, cinnamon, ginger, clove, cardamom, nutmeg, fennel and black pepper…

This powerful blend of tea has been cherished for centuries in India and is known to preserve health and increase peace of mind – why you ask? –  not only is this drink soothing, it has a wide range of wonderful health benefits. It's time to ditch the cup of coffee and reach for a Chai!

Boosts Metabolism and Digestive Function:
Regular consumption of chai spices are known to stimulate digestive and pancreatic enzymes. All the spices contained in chai enhance the activities of the stomach and digestive components. The spices also encourage movement through the gastrointestinal system, therefore assisting with smooth digestive function which may be beneficial if you are suffering from issues such as bloating and indigestion.

Boosts Energy:
The Indian spices contained in traditional chai teas help facilitate energy production within the body. Many chai recipes currently available in stores contain black tea as the base ingredient, and therefore caffeine. However, the goodness from the spices leads to a more balanced energy release into cells. What this means is, a Chai won't only provide you with energy, it will sustain you throughout the day avoiding that mid-afternoon slump!

Supports the Immune System:
The antioxidants and phytochemicals found in chai work together to support our immune system. Ginger in particular, has digestive-boosting properties which benefit our immune defenses. This is why Chai is great for winter, as it helps warn off the dreaded cold.

Full of Health Benefits:
Chai tea is chock-full of antioxidants that may help with the prevention of diseases such as Diabetes, Cancer and Cardiovascular Disease. Common Chai spices such as cardamom, cinnamon and ginger contain antioxidants and phytochemicals that have cancer-prevention properties. In a nutshell, cancer cell proliferation occurs as a result of "rebel" cells growing in shape and number, damaging DNA and other healthy cells. If consumed regularly, cardamom, cinnamon and ginger may help to prevent this rebellion occurring and help maintain the health of cells.
Black tea is a powerful antioxidant that can help prevent damage to the cells and tissues of the body caused by free radicals. According to research published in "Critical Reviews in Food Science and Nutrition" in 2007, the main active constituent of black pepper, piperine, is also a strong antioxidant, preventing oxidative damage.
Another Chai spice, cardamom, is known to help lower blood pressure assisting with cardiovascular health. A study conducted by the Indian Journal of Biochemistry and Biophysics demonstrated that small amounts of cardamom reduces blood pressure, enhances fibrinolysis and improves antioxidant status.
Last but not least, if Chai spices are consumed regularly they may assist in regulating blood-sugar levels. This is particularly important in the long term to help prevent type 2 diabetes.

I bet you're thinking, a Chai sounds good right about now! To help you with that, below is one of my favourite traditional Chai recipes. It's especially beautiful to make during winter as the tea has a warming effect, and the spices leave a lovely smell throughout the house. There are two parts to this recipe, one for a Chai Tea and the other for a Chai Latte – both versions have the same health benefits mentioned above, selecting which one you'd like best depends on your palate.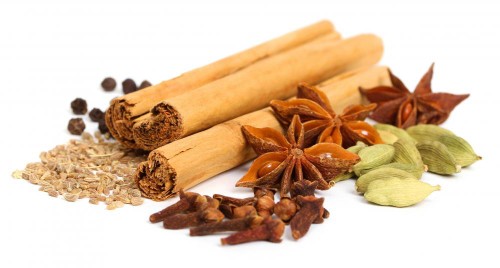 Ingredients: Please use organic wherever possible, it makes for the most wholesome batch…

Chai Tea:
2 cups water
2 organic black tea bags
2 whole cloves
1 tsp ground cinnamon
½ tsp ground ginger
½ tsp cardamom
½ tsp ground nutmeg
? tsp ground allspice
2 tbsp coconut sugar, rapadura sugar or pure maple syrup

Latte:
½ cup chai tea (recipe above)
¾ cup almond milk (or milk of your choice)
1 tbsp pure maple syrup
Pinch of ground cinnamon

Method:

Chai Tea:

1. Add water and spices to a medium-sized saucepan, bring the water and spices to a boil.

2. Whisk the spices in the water. Once the water reaches a boil, turn off the heat and allow the spices to steep in the water for 5 minutes.

3. After 5 minutes, turn the heat back on and add the black tea bag and maple syrup. Return to a slight boil. Once boiling, turn off the heat. Allow the tea bags to steep in the water and spices for another 5 minutes.

4. After 5 minutes, remove the tea bags and strain the tea. Reserve ½ cup of chai tea for the latte. Store the rest of the chai tea in the fridge.

Note: Chai Tea can store in the refrigerator for up to two weeks.

Chai latte:

1. Start fresh. Add your milk, maple syrup and pinch of cinnamon to a medium-size saucepan. Bring to a slight boil (the sides of the milk will begin to bubble), stirring often.

2. Once the sides of the milk begin to bubble, remove the pan from heat.

3. Using a blender, blend the milk until it's frothy.

4. Pour ½ cup of your chai tea into a mug. Slowly add the warm, frothy milk to the tea and stir. Sprinkle the top of the chai latte with an extra pinch of cinnamon, if desired.

5. Serve warm and enjoy!


. . . . .


Yours in Health,


Jennifer Barham-Floreani
(Bach. Chiropractic, Bach. App Clinical Science
Registered internationally, no longer practicing as a chiropractor in Australia.)

. . . . .