A team member offered me one of these homemade biscuits a few months ago and I must admit I was flawed. I'm not much of a biscuit fan so I smiled and took one tentatively and proceeded to nibble politely. I was expecting to encounter an incredibly sweet, powdery biscuit but surprisingly I was gob smacked to say the least by these beauties. They were good, remarkably good.
After inhaling the whole biscuit, I took ahold of myself and discovered that they were not only sugar free but also grain free and the delicious moreish flavor was due to the fresh vanilla bean!
Now at the risk of sounding completely foolish, I think that I was so behooved by these biscuits that I did not even realize at the time that they were raw. Another bonus! This makes them not only super nutritious but incredibly quick to make and low fuss.
Not being a baker myself I had never mastered the art of getting a regular batch of biscuits to not end up looking like 'landslide' but these biscuits make you look like a pro-baker every time.
I'd suggest doubling the batch because they don't last long. The chocolate mixture on it's own does indeed taste bitter but don't be put off, combined together as a biscuit – it's a winner.
This recipe is from the Tribal Wellness Program, founders Kate and Anthony have shared it with us. We hope you love it.
I tweaked the recipe a little for the chocolate as I seemed to have too much and it didn't bind so I added a smidge of boiling water.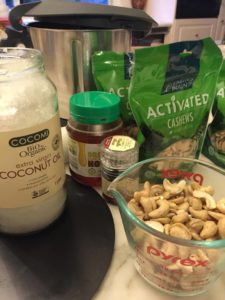 Ingredients:
*To Make Biscuits
3 cups of raw organic cashews (I love to use organic activated cashews)
1 vanilla bean (or freshly ground vanilla powder)
½ cup of coconut oil
¼ of honey or maple syrup (less if you prefer)
*To make Choc Chips
1/3 cup raw cacao powder
1/3 cup coconut oil
a 1/3 teaspoon of boiling hot water if needed to bind.
Method:
1. Start by blending the cashews into a fine powder, then remove ¼ cup of the cashews to use later. Add the rest of the cookie ingredients and blend. Remove and place ingredients into a mixing bowl.
2. To make chocolate chips place ingredients into the food processor and blend. Spread onto a baking tray and place in freezer until hard. Then cut or break into tiny pieces.
3. Mix the chocolate pieces into the cookie mixture and roll into small balls and shape into biscuits or press with a fork. Make your biscuits as big or little as you like. Then press the cookie into the remaining cashew powder, coat and place in the fridge.
Enjoy!
. . . . .



Yours in Health,

Jennifer Barham-Floreani
(Bach. Chiropractic, Bach. App Clinical Science
Registered internationally, no longer practicing as a chiropractor in Australia.)