Well here we are at the start of the week! In my opinion there's nothing like an omelette to start the week….
Note: If you haven't already, please read the first and second post in this series to get the background information.
The boys are often up early and super-organised on a Monday morning, so I am happy to offload some of the omelette preparation to them. They are capable of dicing, grating and cracking eggs, etc, and I have always found when children help make meals, they eat them eagerly.
These days the boys also love to make their own salad sandwiches — again, this way there is no resistance. I prepare all the ingredient options and they get to make their own selections. Okay, yes, there  are boundaries — for example, there has to be at least three salad items and we don't use butter or margarine, so they can choose whether they want hummus, avocado, chutney or mayonnaise, etc.
Here are the specifics…
Monday's Breakfast & Lunch Ideas
Breakfast
Zucchini and Bacon (or Mushroom) Omelette
An Omelette with Mushrooms recipe will soon be released in our Breakfast Solutions book but the basics of any omelette are fairly simple.
You will need:
For this omelette you will need roughly 2 eggs per person. If I am making this bacon and zucchini omelette for 4 people I would use 8 eggs, 1 zucchini, 3 rashers of bacon, 1 cup of cheese, 1 cup of milk of choice, a small portion of Herbamare salt and pepper to taste. Garlic is optional. Alternatively if I am using mushrooms I allow approximately 2 per person.
Method:
You'll need a good quality, large, non-stick pan (this is about the only time I use such a pan). Heat the oil and gently sautée the bacon (or mushrooms) zucchini, and garlic over a medium heat for a few minutes and then remove. While sautéing mix all of your wet ingredients and cheese in a large mixing bowl.  Beat the eggs and all of your wet ingredients together, add a little salt and then pour into the pan and gently stir all of the ingredients together. Turn the heat down low and simply let it simmer and cook for 8-10 minutes.
Serve with a glass of fresh juice, herbal tea or lemon water. No toast is needed as the omelette is filling and we'd advise if possible that you use organic bacon or ham if you can. Mushrooms (instead of bacon) make for a great variation and an option for vegetarians.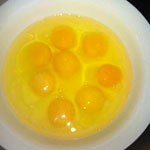 Lunch
It is really important that we offer our children protein throughout their day. A vegemite, jam or peanut-butter sandwich won't offer them the nutrition their growing bodies crave. In Lunchbox Solutions we have some Transitional Steps on how to move a child who only wants a vegemite sandwich towards exploring a salad sandwich – one step at a time.
Roast Chicken Salad Sandwich
Extras: A packet of organic sultanas, veggie sticks, a plum and a small tub of natural yoghurt combined with honey, nuts and blueberries
Using chicken left-overs from a roast chicken the night before allows us to use higher quality protein then typical deli fillings. We used diced roast chicken, combined this with salad on yummy organic Kamut bread. Please see our post on grains The Top 10 Must-Know Breads, Grains & Flours FAQs which explains how Kamut is an ancient grain that has retained it's nutritional value.
You will need:
A 100grams or a small handful of diced roast chicken, and a selection of the following based on your preferences — 1 small butter lettuce leaf torn in two, ¼ carrot, ¼ grated cheese, thinly sliced cucumber, ¼ avocado sliced thinly, some hummus or mayonnaise.
Method:
On one slice of bread, spread the hummus and then place on top of this the grated carrot, cheese, lettuce, avocado and sliced chicken. Add the second slice of bread and cut into portions.
If you don't have any left over roast chicken below is a recipe for a delicious moist chicken sandwich from Chef Kate in Lunchbox Solutions that uses marinated chicken breast. Again you may have an addition chicken breast  (or half a breast) that you did not need with an evening meal which can then be used for this delicious variation of this chicken sandwich.
Extras: A packet of organic sultanas, veggie sticks, a plum and a small tub of natural yoghurt combined with honey, nuts and blueberries.
For the tub of yoghurt I simply fill a small tub, stir in ½–1 teaspoon of honey (depending of preferred taste) then add some sliced nuts and blueberries. This makes for a much healthy yoghurt option then ready to go tubs of yoghurt marketed at children which are typically high in sugar.

Recipe alternative: Chef Kate's Grilled Chicken Breast Sandwich from Lunchbox Solutions
"No one likes a dry, taste-less grilled chicken sandwich, particularly if you know how incredibly yummy they can be. When the chicken is marinated and cooked well, this sandwich will be repeatedly asked for." —Chef Kate
Ingredients:
2 tablespoons melted coconut oil (for quick marinade)
2 tablespoons tamari
2 large boneless chicken breasts (about 200 grams / 7 ounces each)
2 tablespoons coconut oil
1 tablespoon mayonnaise
2 tablespoons hummus
¼ cup grated carrot
¼ cup grated cheese
2 large leaves of butter lettuce, sliced or torn into small, bite-sized pieces
2 pieces of your favourite bread !
Method:
Melt the coconut oil and pour into a medium-sized shallow bowl or container.
Add two tablespoons of tamari and mix together.
Using a meat mallet or a rolling pin, pound the chicken breast until it has a uniform thickness of about ½–1cm (¼–¾ inch) (pounding the meat tenderises it and quickens the cooking time. You can also ask your butcher to do this for you).
Place the chicken breast on a plate and pat dry with a paper towel (this prevents it from steaming when cooking and ensures a crunchy ?nish to the meat).
Add the chicken and ensure that it is coated in the marinade by turning it over with a fork a few times. Set aside for 3-5 minutes.
Meanwhile, prepare the wrap/sandwich ingredients.
In a medium frying pan, grill pan or grilling machine, heat 2 tablespoons coconut oil. When the oil is hot, place the chicken in the pan and cook for 2- 3 minutes on medium heat, then turn the breast over and cook the other side until the juices run clear and the meat is an even, white colour.
Remove from pan and allow to cool (approx. 5 minutes) on a chopping board. Slice each chicken breast lengthways into thin strips.
On one slice of bread, spread the hummus and then place on top of this the grated carrot, cheese, lettuce and sliced chicken. Spread the mayonnaise onto the second slice of bread and cut into portions.
. . . . .
If you haven't already, please click here to download my Shopping List for this 5-day meal plan.
For other amazing recipes for sushi, pizzas, salads, wraps etc that make for fabulous lunches please see Lunchbox Solutions.
. . . . .
From the desk of…
Jennifer Barham-Floreani
Bach. Chiropractic, Bach. App Clinical Science
Registered internationally, no longer practicing as a chiropractor in Australia.
. . . . .