These two recipes make for a tasty twist on breakfast and lunch. When we place value on 'variety', eating healthy meals becomes a whole lot easier…
Note: If you haven't already, please read the first and second post in this series to get the background information.
Breakfast
Brown Rice Porridge with Banana, Cherries, Blueberries, Rice Milk and Coconut Sugar.
Our family doesn't thrive on oat porridge but on a cold morning sometimes a warm porridge can be very nurturing so we choose a nourishing brown rice porridge. The brand we have discovered recently and now love is Eden Organic (available through Spiral Foods) it isn't hard and grainy like many rice porridges and it is made from organically grown short grain brown rice.
The whole natural grain of brown rice with its bran is far more nutritious than white rice because only the outer layer of the hull is removed. Brown rice contains fibre, B vitamins, vitamin E, magnesium and iron, and it has a nuttier, stronger flavour. With this brand the whole grain brown rice is sprayed with filtered water and gas flame roasted in a ceramic kiln. After roasting the brown rice (which contains the most vitamin B of all grains) is pressed into flakes on stainless steel rollers. Fast and easy-to-cook, it becomes a creamy, mild porridge when cooked and is ready in just 3 minutes.
Try it, I think you'll love the taste and if you tend to feel bloated or experience stomach aches after oat porridge, then you'll be delighted.
You will need: Eden Brown Rice Porridge, I use a ½ cup of porridge to 1 cup of water per person. I also use about 3 cherries, a small handful of blueberries and half a banana per person.
Method: Place the porridge and water in a heavy based saucepan and cook for 3 minutes. Once cooked I turn the flame off and stir through the fruits and coconut sugar to taste. Serve with rice milk or your milk of choice.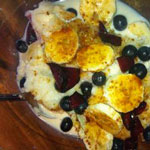 Lunch
Tuna and Sardine Patties with Lettuce and Veggie Sticks.
NOTE: I make these the night before for dinner and then use the remaining patties for lunches.
For Play Lunch and Fruit Time = Some Grapes, Cherries, Kiwi Fruit and a Spelt Fruit Bun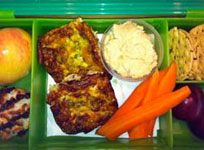 These patties are moist and delicious, and can be served in a wrap or individually with a little dipping sauce, either Tamari Mayonnaise or  Yoghurt Dipping Sauce and some vegetable sticks. The recipe is extracted from Lunchbox Solutions and they also make for a great healthy dinner, served with a side salad and Quinoa Pilaf.
In this recipe we combine tuna with the sardines to create a wickedly good fish patty. As far as fish goes, sardines are probably the best you can find, containing the least heavy metals and other toxins yet still full of essential fats. Try to find brands that are packed in their own oil or olive oil, and avoid soy-bean or hydrogenated vegetable oil.
We suggest making these patties for an evening meal the night before—this makes for a quick and easy assembly of wraps in the morning.
If your child has not been particularly adventurous in the past, then offer these tuna and sardine patties for an incredibly yummy evening meal with salad, or as a lunch with veggie sticks before including them in their school lunchbox.
Ingredients:
Tuna and sardine patties 
300 grams (10.5 ounces) sweet potatoes, peeled and chopped
½ teaspoon sea salt (optional)
¾ x 425g can tuna, drained
1 x 100 grams can sardines, drained (optional)
1 egg, lightly beaten
1 medium onion, finely sliced
½ cup finely chopped spinach
½ cup green peas (fresh or frozen)
¼ cup grated carrot
2 tablespoons finely chopped parsley
½ cup dried rice crumbs
¼ cup gluten-free plain flour or rice flour
Sea salt and pepper, to taste 
Ingredients:
For crumbing and frying 
½ cup gluten-free plain flour or rice flour
2 eggs, lightly beaten
1 cup dried rice crumbs
2 tablespoons coconut oil
Method For Patties: 
Half fill a medium saucepan with water and add the sweet potatoes and sea salt.
Bring to the boil and cook for about 10 minutes, or until tender.
Drain the sweet potatoes, place in a medium bowl and roughly mash.
In a medium bowl, mix the tuna and sardines well (alternatively, you could use a whole can of tuna, rather than a mix of tuna and sardines in this recipe). Then add the beaten egg, onion, vegetables, parsley, rice crumbs, flour, salt and pepper. Stir to combine.
Using damp hands, shape into 8-12 oval patties (depending on preferred size).
Place the flour on a plate. Place the beaten eggs in a small bowl and the rice crumbs in another plate.
Dust each patty lightly in flour and then dip into the egg mixture, followed by the rice crumbs.
You may wish to now freeze some of your pre-made (uncooked) patties for use at a later time.
Heat coconut oil quickly in a large frying pan over high heat. Add the patties and cook for 2-3 minutes on each side or until golden brown.
Reduce the heat to medium and continue cooking and turning the patties for another 2-3 minutes.
Place on a paper towel to drain. Allow to cool.
Serve with with Lettuce and Veggie Sticks. 
Play Lunch and Fruit Time = Some Grapes, Cherries, Kiwi Fruit and a Spelt Fruit Bun
For other amazing recipes for sushi, pizzas, salads, wraps, etc, that make for fabulous lunches please see Lunchbox Solutions.
. . . . .
From the desk of…
Jennifer Barham-Floreani
Bach. Chiropractic, Bach. App Clinical Science
Registered internationally, no longer practicing as a chiropractor in Australia.
. . . . .