My goodness, we are almost through another week. These two recipes are very simple but some days you need simple…
Our family loves eggs for breakfast and it is not uncommon for us to have them 3 times a week. On a school morning there is nothing better, because eggs get our brain working. Egg yolk is a leading source for choline (approximately 300 micrograms), a nutrient that recently has been proven to boost brain power by speeding up the sending of signals to nerve cells in the brain. In fact, choline helps regulate the brain and the nervous system, supporting mental function and memory.
Often I like to make a batch of baked beans on the weekend, reserving enough for one of the weekdays. The recipe is included below, I also add spinach leaves if I have them on hand. Of course, if pushed for time — a tin of organic baked beans also works. Most children love bacon, it is not however a high quality protein. If you can, purchase organic bacon and use just once a week or every so often.
Enjoy!
Breakfast 
Poached Eggs with Baked Beans, Spinach, Bacon and 1 piece of Kamut toast.
"I love a poached egg. Poaching is nutritionally one of the best ways of cooking an egg as you retain all the nutrients of the egg without having to add any oils or other ingredients. Some recipes use water only, while other methods include the addition of salt and vinegar."
You will need:
4–8 free range eggs (1–2 per serve, depending on the size of the eggs)
Sea salt and pepper (to taste)
1 piece of Kamut toast per person
1–2 pieces of bacon per person
½-1 cup of baked beans per person
When your bacon is sizzling and baked beans are heating, it is time to poach your eggs.
Method for Poaching Eggs:
Fill a shallow saucepan with water – there should be enough water to cover the eggs – and bring to near-boiling point. Don't use boiling water as this will affect the taste of the eggs.
Crack each egg into a small cup or ramekin, then slip the lip of the cup or ramekin under the surface of the water and let the egg slowly flow out. This helps to ensure you don't pour a broken egg yolk into the water, which won't poach well, and allows you to control the egg. Place the cup near the surface of the water and gently drop the egg into the water. Then use a spoon to gently move the egg whites towards the yolk.
When all the eggs are in the saucepan, reduce the heat by half for 2 minutes, and then take off the heat and cover with a lid for another 2 minutes, or until firm. Scoop the eggs out of the water using a slotted spoon and drain on a paper towel.
NOTE: You can also use a bit of white vinegar, about 2 teaspoons, in the cooking water to help keep the poached egg together; though keep in mind that the poached egg will have a slight vinegar taste.
Serve these on a piece of kamut toast.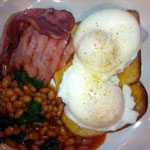 Recipe For Homemade Baked Beans
"These baked beans are great for breakfast and the recipe is so good that I suggest doubling the amounts so that you have more beans on hand for another day."
Beans are loaded with fibre and high-fibre diets are associated with lower risks of cancer, heart disease, diabetes and obesity. They are low in fat and are a terrific source of phytochemicals – nutrients concentrated in the skins of many fruits and vegetables that help to protect the body from disease – magnesium, fibre, iron, potassium, folate and molybdenum – an important mineral that helps the body produce detoxifying enzymes.
Serves: 2 – 4 people
Preparation time: 5 – 10 minutes
Cooking time: 15 minutes
Ingredients:
2 teaspoons olive oil (plus a little to drizzle)
1 – 2 cloves garlic, smashed and chopped
1 – 2 tablespoons finely chopped parsley
1 cup (250 grams) tinned diced tomatoes (or fresh tomatoes if preferred)
1 tablespoon agave, honey or maple syrup
1/2 teaspoon sea salt (to taste)
Pepper (to taste)
1 sprig rosemary (optional)
1 x 400 grams (15 ounce) can cannellini beans (or haricot or butter beans), rinsed and drained
Method:
In a frying pan, heat the olive oil over a low heat. Add the garlic and parsley and sautée while stirring for 30 seconds, taking care that the garlic doesn't brown.
Add the rosemary and sautée for a few seconds more. Then add the tomatoes and cook while stirring for about 1 minute. (Note: If using fresh diced tomatoes cook for about 3 – 4 minutes, stirring often, until they are tender and have released some of their moisture.)
Add the beans, honey, salt and pepper and continue cooking while stirring for about 5 – 8 minutes.
Remove from heat and cover with a lid until ready to serve. Reheat if needed before serving.
NOTE: Uncooked beans should be soaked overnight prior to cooking. They can be cooked on the stove-top by simmering them for approximately 3 hours. One cup of dried beans makes about 3 cups of cooked beans. We love beans in salads, soups and stews.
Lunch
Chicken, Avocado, Spinach and Cheese Toasted Sandwich
For Extras = 1/3 of a cucumber, 1 dried banana, 1 nectarine, 2 pieces of apple joined by nut butter
This toasted sandwich is fairly straightforward and I presume I don't need to elaborate on the method. We use Kamut bread and avocado instead of butter or margarine.

 . . . . .
From the desk of…
Jennifer Barham-Floreani
Bach. Chiropractic, Bach. App Clinical Science
Registered internationally, no longer practicing as a chiropractor in Australia.
. . . . .