We're only halfway through the week, but some of us are already starting to notice our kids' behaviour and vitality has improved with just a few days of healthier meals…
Note: If you haven't already, please read the first and second post in this series to get the background information.
Breakfast
Gluten-free Grain Mix with Fruit, Nuts and Rice milk
Some mornings are just a rush. I pre-mix this gluten-free blend together in advance and store in a large glass container for just those occasions.

With this recipe you can use all or as many or as little of the following ingredients as you like.  Where possible please use organic cereals and produce.
Ingredients: 
2 Cups millet puffs
2 Cups amaranth puffs
2 Cups brown Rice Puffs
2 Cups spelt flakes 'cereal' (like corn flakes or puffs?) not raw right?
2 Cups quinoa flakes 'cereal' (like corn flakes or puffs?) not raw right?
1 cup chopped almonds,
1 cup pistachios,
¼ cup pumpkin seeds
¼ cup sunflower seeds
1/2 cup finely chopped dried figs,
1/2 cup finely chopped dried apricots
½ cup goji berries
Method:
In a large bowl mix all the ingredients together well. Store in a large airtight glass jar for a month.
To serve add your choice of milk, yoghurt, probiotic (½ a teaspoon) and chopped fresh fruit.
Lunch
Prawn and Zucchini Slice with Home-made Hummus, Carrot Sticks and Crackers.
For Play Lunch and Fruit Time = Two Plums, an Apple and a Coconut Biscuit.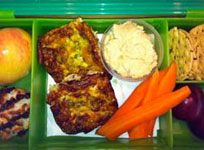 I make this the night before to save time in the morning.  If your vegetarian or your children don't like prawn then leave these out and add any ingredients you like. Recipe taken from Lunchbox Solutions
You will need
1 medium-sized rectangular baking pan (30 x 20 x 5 cm / 13 x 9 x 2 inches).
Ingredients:
1 teaspoon coconut oil (to grease pan)
2 tablespoons coconut oil
8-10 medium prawns (approx.150 grams / 5 ounces), peeled, veins removed and cut into bite-sized pieces
5 free-range eggs
1 cup (150 grams / 5 ounces) gluten- free self-raising ?our, sifted
1 medium zucchini (courgette), grated
1 large onion, ?nely chopped or grated
1 cup grated parmesan cheese
Salt and pepper (to taste)
Method:
Preheat oven to 170°C (340°F).
Grease a baking pan (very well) with coconut oil.
In a medium frying pan, heat the coconut oil until melted.
Add the prawns and sauté on medium heat for 3-4 minutes, or until they are cooked through (turn translu- cent pink). Set aside to cool.
In a large bowl, beat the eggs well and then add the ?our slowly, continuing to beat until the mixture is smooth.
Add the cooked prawns, zucchini, onion and parmesan cheese; combine well. Season with salt and pepper.
Pour the mixture into the prepared pan and bake in the oven for 30 minutes, or until cooked through. (Tip: this mixture is quite sticky, so grease your baking dish or pan well).
Remove from the oven and allow the slice to cool before removing from the pan
NOTE: You can also bake this mixture in muffin tins lined with baking paper (see our Mini Frittata and Mini Quiche recipes). You will need to cook them for less time, depending on the size of your muffin moulds (about 15 minutes for large muffin moulds).
Alternative Ingredients:
Substitute the prawns with 1 cup diced cooked chicken
 . . . . .
From the desk of…
Jennifer Barham-Floreani
Bach. Chiropractic, Bach. App Clinical Science
Registered internationally, no longer practicing as a chiropractor in Australia.
. . . . .