I love Ghee's nutty subtle flavour and I use it consistently now – roasting vegetables or when searing meat (try it you'll love it!) Add to this the host of health benefits that ghee offers (please see our recent post Why Do People Rave About The Health Benefits of Ghee?) and guaranteed ghee will become a staple in your house too.
Preparation: 15 minutes
Makes: 3/4 cups
What You'll Need:
2 x 250 grams of organic unsalted butter or high quality grass feed butter (I don't mess about with smaller quantities, plus it has an uber long shelf life.).
A medium sized saucepan
A fine mesh strainer
A piece of cheese cloth
Heat safe bowl or cup
Sealed storage container
Method:
Melt your unsalted butter in a saucepan over LOW heat.
As it melts the milk solids will separate from the clear fat.
Watch it closely as it bubbles.
These bubbles will gradually become smaller, until a foam forms on the surface.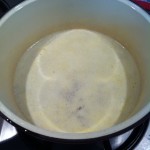 The milk solids will then turn brown and some will clump together.
After about 8-10 minutes the milk solids should be a deep golden brown colour and they will start to drop to the bottom of the pan. Remove the pan from the heat.
Do not allow those bottom bits to burn (it means your Ghee will be overcooked).
The liquid should look golden and clear with browning bits at the bottom of the pan.
Place a fine mesh strainer on top of a heat proof bowl or cup and place the triple layered cheese cloth into the strainer.
Carefully strain the butter through the cheesecloth and discard the milk solids.
Wait for it to cool.
Store in a sealed container in a cool and dry place for 3 months.
Ghee will solidify a bit at room temperature – it will have both hard and runny parts at room temperature. If you like to use ghee as a spread then it may be a good idea to keep some in the refrigerator for this purpose.
If refrigerated, Ghee can last a year.
You can also flavour your ghee is want to be incredibly sophisticated. The following makes an Ethiopian spice-infused ghee – Niter Kibbeh.

Simply add 4 minced garlic cloves, 1 chopped yellow onion,  a cinnamon stick,  2 teaspoons of minced ginger, 1/2 teaspoon of turmeric when you simmer the butter. Simmer and strain as per above.
Do I still use Coconut Oil?
I've been asked if I still use coconut oil when cooking or have I switched to ghee entirely? The answer is yes I like to use both, to vary between the two different oils.
. . . . .

Yours in health…
Jennifer Barham-Floreani
Bach. Chiropractic, Bach. App Clinical Science
Registered internationally, no longer practicing as a chiropractor in Australia.