"Research tells us fourteen out of any ten individuals likes chocolate"
—Sandra Boynton
Young or old we all tend to love chocolate so it's good news that this recipe is both chocolatey but densely wholesome.
Preparation Time: 20 minutes
Cooking Time: 15-20 minutes
Cooling Time: 30 minutes
Serves: 10-12 bars
Ingredients:
Nut Bar
2 1/2 cups (approx. 425 grams) coarsely ground walnuts
2 1/2 cups (approx. 150 grams) desiccated (shredded) coconut
1/2 cup (125 grams) honey or agave syrup
1/4 cup (approx. 60 ml) melted coconut oil
1/2 teaspoon sea salt
1 teaspoon vanilla essence
Topping
1/2 cup (approx. 35 grams) unsweetened desiccated or flaked coconut, toasted (see method)
1/4 cup (approx. 30 grams) roughly chopped walnuts, toasted (you can substitute with other nuts if you prefer)
Chocolate Glaze
1/2 cup (125 grams) honey or agave syrup
1/4 cup (60 ml) coconut oil
2 tablespoons (40 ml) unsweetened coconut milk
1 cup (approx. 160 grams) unsweetened cocoa powder
Method:
Preheat oven to 180°C/350°F.
Line a rectangular baking pan or cake tin (approx. 21cm length x 12cm wide x 4cm deep) with baking paper (Tip: you can also use a round pie dish or several smaller baking dishes greased with coconut oil).
In a large mixing bowl or electric mixer, combine the nut bar ingredients and mix well.
Press the mixture evenly into the baking pan.
Bake in the oven for 15-20 minutes, or until golden brown and you can smell toasted coconut. Be careful not to burn it—you may need to cover the pan with baking paper for the last 5 minutes.
Meanwhile, toast the walnuts and coconut.
Because the walnuts take a little longer to toast, place the walnuts in a non-stick frying pan first. Heat over medium heat and stir constantly for 1-2 minutes (there is no need to add oil as the nuts have enough of their own oils).
Now add the coconut and continue stirring for a further 2-3 minutes, without taking your eye off the pan.
Remove the baking pan from the oven and set aside to cool slightly. If the bar remains slightly warm, this will ensure the chocolate glaze melts well when you drizzle it on top.
Spread the warm chocolate glaze evenly over the warm bar, while it is still in the pan.
Sprinkle with the toasted coconut and toasted walnuts.
Refrigerate for at least 30 minutes or until the chocolate sets.
When set, remove from the fridge and divide the bar into 4cm squared pieces.
Method—Chocolate Glaze:
In a medium saucepan combine the honey, coconut oil and coconut milk and cook over medium heat. Stir continuously until the oil and honey have melted and the mixture is very warm, but not boiling.
Remove from heat and whisk in the cocoa powder, stirring until the mixture is well combined and silky smooth.
. . . . .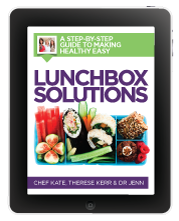 For more super-tasty superfood recipes,
take a look at Lunchbox Solutions.
. . . . .
Enjoy!!
Jennifer Barham-Floreani
Bach. Chiropractic, Bach. App Clinical Science
Registered internationally, no longer practicing as a chiropractor in Australia.