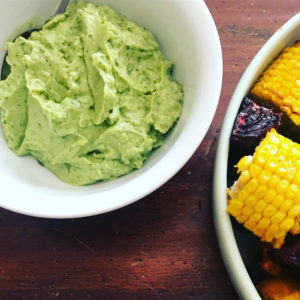 Looking for ways to get more sauerkraut into your family's week? Then simply add some sauerkraut to your favourite guacamole recipe! Yep you heard me, try it on. It's Fabulous!
But why mess with a good thing?? …because sauerkraut is full of probiotics which are helpful bacteria that support digestive health and therefore overall well-being.
If you need a great recipe I've included our Rock Star Guacamole recipe for you that I tweaked by adding the fermented cabbage.
Rock Star Guacamole
Ingredients:
2 ripe avocados
2 stems spring onion
1/2 cup chopped coriander (trim the roots, and don't forget to finely chop the stems and use them – this is where the flavour is)
Juice of 1/2 a lemon
Juice of 1/2 a lime
2 cloves garlic
1 tablespoon of Sauerkraut
1 teaspoon of Sauerkraut brine
1 ripe tomato or cherry tomatoes (optional)
Pinch salt to taste
Cracked black pepper to taste
You can chop and grind all ingredients or if want to be super quick throw all ingredients into your Thermomix or food processor.
Original idea for adding Sauerkraut to guacamole came from the wonderful MindBodyGreen website.
#cookingforhealth
#guthealth