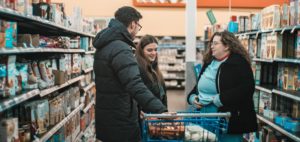 Yesterday as I entered the grocery store a distressed woman rushed up to her friend and announced, "They're out of soap!" While I am the last person likely to be worried about germs (based upon my understanding of the immune system and microbiome), I do appreciate that at this time – the MOST powerful preventative medicine we have with COV19 lurking, is good hygiene (and hand hygiene in particular).
We all have someone in our hearts and minds who has a compromised immune system or an elderly person whom we don't want to unnecessarily stress physically or emotionally. Everyone's immune strength varies and in circumstances like this – we can love, respect and support each other by minimizing each other's unnecessary exposure to the virus.
That said I imagine I'm not the only one who's starting to think creatively about, "What to do – when the supermarket shelves are bare of so-called essential items?" Additionally, "What we can do when we have great concern over commercial brands of hand sanitizer?"
I felt urgent the other day when the gym I attend insisted everyone in the circuit class lather up with a hand sanitizer. I admit I am more worried about using a commercial hand sanitizer than I am – not using one because I know what's in them! These chemicals DO NOT make hand sanitizers more effective than washing with soap and yet THEY DO add an additional burden on our immune system.
So where does that leave us?
Well, in this blog:
We explore the downside of Triclosan found in many commercial soaps and some hand sanitizers.
Safer options you can buy
Recipes for Homemade hand sanitizers including one compared with guidelines from the WHO guide.
Commercial Hand Sanitizers.
Did you know that most store-bought soaps and hand sanitizers are filled with dangerous preservatives and chemicals like:
Fragrance (read our blog)
Dyes
Thickeners
Formaldehyde
Fillers
Glycol ethers
Monoethanolamine
Isopropanol
Triclosan
Sulfates
Skin stripping agents
And countless more toxins…
While many of these ingredients are alarming, the one I'd like to draw your attention too is – Triclosan.
What Is Triclosan and Why Should You Avoid It?
This chemical has been around since the 1960s and is used as an antibacterial and antifungal agent in personal care products and as a pesticide for decades. Triclosan is one of those chemicals that was found in pretty much everything. You could see it in your soaps, first aid kits, cosmetic products, and even in your kid's toys. It's in deodorant, shaving cream, toothpaste, rubbish bins, clothing, chopping boards, credit cards.
How Safe Is Triclosan?
Triclosan has been linked to disrupted hormonal development, a reduction in bacterial resistance and an increase in allergies. 1 According to the Australian Department of Health, it can also irritate the eyes and skin. Sydney's St Vincent's Hospital even stopped using sanitising products containing Triclosan over five years ago!1The Australian Department of Health has warned that using a number of products containing Triclosan, such as medicated soaps, antibacterial hand washes and toothpaste, could be a risk to our health over time. Yet Triclosan is still used in many Australia brands as it remains unbanned. For a peek at what brands contain Tricolan see our other blog "Triclosan is it banned? Not banned? Where is it found?
Here's a DIRECT extract from the FDA website about Triclosan – this is an important read.2
Some short-term animal studies have shown that exposure to high doses of triclosan is associated with a decrease in the levels of some thyroid hormones. But we don't know the significance of those findings to human health. Other studies have raised the possibility that exposure to triclosan contributes to making bacteria resistant to antibiotics. Currently, we don't have enough information available to assess the level of risk that triclosan poses for the development of antibiotic resistance.

There are other ongoing studies that involve the safety of triclosan. One is a study investigating the potential of developing skin cancer after a long-term exposure to triclosan in animals. Another is a study on the potential breakdown of triclosan to other chemicals on human skin after exposure to triclosan to ultraviolet (UV) rays. At this time, neither study has been completed.
Their summary is based on research such as this below:
Interestingly, TCS (triclosan) containing soap products were not found to provide any additional skin-sanitizing benefits compared to soap not containing TCS. In addition, TCS was found to produce bacterial resistance via target site modification which decreased the inhibitory effect of this chemical. Bacteria in the environment may also become TCS resistant following environmentally relevant exposure levels.

Bacteria in the microbiome might be altered due to TCS. TCS exposure might also result in bacterial resistance to other antimicrobials. Increased TCS resistance is also associated with an elevation in resistance to multiple other antibiotics in clinical settings.3

Interestingly, 

In September 2016, TCS was banned by the FDA in soap products (liquid, gel, foam, bar); however, TCS still remains allowed in toothpaste, hand sanitizer, and mouthwash4.

Yes, you read that right – they have banned the use of this chemical in soaps but not toothpaste, hand sanitizers or mouthwash……

How does this make sense?

I'm just as confused as you!

Interestingly the European Union (EU) banned TCS from all human hygiene biocidal products starting January 20175.
As the substance has become more common in soaps and personal care products, it has also emerged in the environment, contaminating our waterways and potentially harming our marine life. Triclosan is among the seven most frequently detected compounds in streams across the United States, and it has even been detected in the urine and breast milk of large portions of the population.8
To my mind, any product that knowingly causes a decline in the strength of our microbiome is best avoided particularly when there are safer, alternatives that are friendlier to our gut and immune system. While I think it's important we are all mindful about the use of hand sanitizers, in particular, I would recommend breastfeeding mums to focus on safer sources to keep their hands clean versus transferring sanitizer residue onto their breasts and little ones.
Even the CDC and World Health Organization agree…
…we just need good, clean soap (and about 20 seconds of scrub time with warm water).
Professor Mary-Louise McLaws, an infection control expert from UNSW, says the ingredients in hand sanitisers don't penetrate organic protein, McLaws explains, so they won't work to remove dirt, stickiness, harmful chemicals, urine or fecal matter from our hands, while soap and water will.9
Don't want to just use soap?
Or perhaps soap isn't always convenient.
Here are a few ideas on options to purchase and safe DIY home-made recipes.
1. Purchase a chemical-free, ready-made hand sanitizer.
For example:
Young Living Thieves® Waterless Hand Purifier – it's an all-natural product. It's convenient, portable, and long-lasting, is enhanced with natural Peppermint oil, aloe, and vegetable glycerine to cleanse, purify and moisturize hands. ESSENTIAL OILS: Clove, Cinnamon Bark, Rosemary, Lemon, Eucalyptus Radiata, Peppermint.
I tend to use the Young Living Essential Oil Thieves Spray instead – in the same way mostly because I always have one in my handbag. It's a perfect size and as a small spray bottle, I keep it with me wherever I go. No rinsing required. A bottle retails for around $12.
You could even use it for public toilets, on light switches or whatever stresses you germ wise. Don't use it on sensitive skin areas though – been there! I once used it as a deodorant alternative and as the tears rolled down my checks, ouch I vowed not to do that again 😉 A bottle retails for around $20.
Squeakie Natural Hand Sanitiser
Formulated with natural antibacterial ingredients, the Squeakie Natural Hand Sanitiser keeps hands clean and germ-free without disrupting your hormones or immune system. Complying with the World Health Organisation hand sanitiser guidelines, this natural hand sanitiser contains Pure Milk Whey Alcohol, Sea Kelp, Rosehip Oil and Aloe Vera to remove bad bacteria without drying skin. Ideal for all skin types, including sensitive skin and delicate children's skin, this handy squeeze bottle is an essential germ-buster and can be kept in your handbag or the kids' schoolbags.
Dr Bronner's Pure-Castile Liquid Soap Citrus Orange
The Dr Bronner's Pure-Castile Liquid Soap in Citrus Orange makes an ideal alternative to antibacterial soaps, providing deeply cleansing action for 18 different uses around the home, including as a body wash, shampoo and laundry detergent! With a zesty citrus scent thanks to Lemon and Orange Blossom, this natural soap contains Coconut Oil and Jojoba Oil to help nourish and revitalise skin.
Dr Bronner's Organic Pump Soap Baby Unscented Mild
The Dr Bronner's Organic Pump Soap in Baby Unscented Mild is a gentle, fragrance-free formula which is ideal for use on babies and those with sensitive skin. A 4-in-1 liquid hand and body soap, this rich, smooth formula contains Hemp Oil and Organic Shikakai to cleanse the face, hair and body without the use of harsh chemicals. Keep one by the kitchen sink, in the laundry or in your shower for use by the whole family.
2. Make Your Own Hand Sanitizer.
I found myself in this predicament with patients when our supplier Young Living had run out of stock. So I went about searching for ideas on how to make your own hand sanitizer but wanted to check on WHO recommendations.
Here's a direct extract from a great article on Do Home Made Hand Sanitizers Work and Are They Safe? from theconversation.com6
Let's take a look at a popular DIY recipe:
Combine in a bowl,
2/3 cups rubbing alcohol (99.9% isopropyl alcohol)
1/3 cup aloe vera gel
Stir. Decant into a soap or pump bottle give it a good shake every now and then.
A 2017 study7showed that both ethanol and isopropanol preparations made to the official World Health Organization (WHO) formulations inactivate the Sars and Mers viruses, which are coronaviruses related to the one that causes COVID-19. These formulations contain final concentrations of either 80% ethanol or 75% isopropanol along with 1.45% glycerol and 0.125% hydrogen peroxide. Here's the WHO formulation used widely in hospitals and manufacturing in 3rd world countries:
Ethanol 96%
Hydrogen peroxide 3%
Glycerol 98%
Sterile distilled or boiled cold water
Everything in these formulations is mixed in distilled water or simply cold boiled water. The hydrogen peroxide is used to inactivate any contaminating bacteria in the mix, but is not an active ingredient in the sanitiser. The glycerol is a humectant, a substance to help retain moisture, and can be replaced with any other emollient or moisturiser to help with skincare – including aloe vera.
Compared with WHO formulation: How does the homemade recipe above (using rubbing alcohol and aloe vera) compare with the WHO formulations? Well, not too bad since both contain the alcoholic active ingredient and an emollient. The problem might be that the 66% alcohol concentration is towards the lower end of the effective range.
Studies have shown that higher alcohol concentrations work better, and we know that the WHO 75% isopropanol or 80% ethanol formulations can kill other coronaviruses. The homemade products may not be strong enough to inactivate the virus quite as effectively as the WHO formulation. On the other hand, some commercial hand sanitisers contain as little as 57% alcohol, so these homemade products would be better than that.
In our opinion, if you want to make a homemade hand sanitiser you should go with a modified version of the first recipe, upping the rubbing alcohol to the WHO-recommended concentration: three-quarters of a cup of isopropanol and a quarter of a cup of aloe vera gel. You could even substitute glycerol for the aloe vera gel. It's cheaper, but it won't smell as nice.
Always follow the safety instructions on whichever alcohol you use and remember this is only for cleaning your hands. Don't bathe in it and definitely don't drink it!
WHAT TO DO WHEN THERE'S NO ISOPROPYL AVAILABLE EITHER???
This is already reality with panic shopping amdist the Coronavirus. The main active ingredient in the first homemade sanitiser recipe is the isopropyl alcohol (isopropanol). Most commercial hand sanitisers contain either ethanol, isopropanol, n-propanol or a combination of any two.
Mixtures of 60%-80% alcohol by volume kill microorganisms, so the 66% alcohol concentration in the recipe looks about right if pure rubbing alcohol (also known as "surgical spirits") is used. A quick look at Amazon, though, shows that it is usually sold as a pre-prepared working dilution between 50% and 70%, to be used directly on surfaces. Mixing even the 70% solution with the aloe vera will make the final alcohol concentration too low to be useful.
Although it's hard to get hold of, pure ethanol could be used in the recipe instead of isopropanol. Ethanol is the alcohol found in spirits, and another homemade sanitiser that has gained some attention uses vodka.
Most vodka contains about 40% alcohol – not nearly enough for an effective hand sanitiser. You need to look for the strongest vodka available something as staggeringly high as 88% ethanol. This could be used to make another 66% alcohol hand sanitiser with three parts vodka to one part aloe vera. It would make for an expensive product, but since it was sold out on all the sites that we looked at, maybe there's a market for it.
If you're interested here's a list of the strongest alcohol's I could find:
Bacardi 151 (75.5% Alcohol) …
Sunset Rum (84.5% Alcohol) …
Balkan 176 Vodka (88% Alcohol) …
Pincer Shanghai Strength (88.88% Alcohol) …
Hapsburg Gold Label Premium Reserve Absinthe (89.9% Alcohol) …
Good ol' Sailor Vodka (85% Alcohol) …
Devil Springs Vodka (80% Alcohol)
So there you have it, folks!
Here's a couple of other pointers.
If you were going to lean towards the WHO's recipe consider that vegetable glycerin is made by heating triglyceride-rich vegetable fats — such as palm, soy and coconut oils. So if using it would be important to source one made ethically and with ingredients, that you're happy with. Vegetable glycerin is generally considered safe to use. However, there is a possibility of allergic reaction, headaches, nausea, thirst and stomach upset in some people.
Yes, there are plenty of other DIY recipes floating around but they may not be effective at keeping the above viruses at bay. Right now stopping the spread for everyone involved is paramount. The recipe outlined at the start doesn't contain chemical-based anti-bacterials and that's the focus.
Here are two other recipes you could play around with but during this time of COVID-19 I would swop out the distilled water for alcohol.
NOTE: Clean and wipe off the surface with a damp cloth (this is important when using the castile soap cleaner since it can leave a soapy residue if left to dry). Do NOT use the vinegar cleaner on marble or granite. The castile soap (avoid the citrus variety) cleaner may be used on sealed marble or granite.
Castile Soap Surface Cleaner
2cups distilled water (alcohol as per above)
2TB castile soap up to 1/4 cup*
15drops lavender essential oil or peppermint or orange
For the castile soap cleaner, pour the water into a 16oz. spray bottle (use a funnel, if needed). Add the castile soap and essential oil. Gentle shake the cleaner. This cleaner may be stored at room temperature. I recommend starting with 2 tablespoons of castile soap, and then increasing the amount to 1/4 cup if you want more of a soapy cleaner.
Vinegar Surface Cleaner
1cup distilled water
1cup white distilled vinegar (alcohol as per above)
1/2lemon juiced (optional)
15drops lavender essential oil or peppermint, orange, or lemon
For the vinegar cleaner, pour all the ingredients into a 16oz. spray bottle (use a funnel, if needed). Gently shake the cleaner. This cleaner will need to be stored in the fridge between uses due to the fresh lemon juice. When you introduce water into a product without a preservative you always run the risk of introducing bacteria, so use water-based products quickly. I use my cleaners (when lemon is added, which should be stored in the fridge) within 3 weeks.
The vinegar cleaner does have a vinegar scent (hey, it's vinegar!), but it works very well for cleaning multiple surfaces, including carpet mishaps. If you have a marble or granite surface, do NOT use a vinegar-based surface cleaner since it can etch away at the stone.
Vinegar is 5% acetic acid. This acid fights against bacteria and other yuckies you don't want living in your home. Vinegar can't be used on every surface (like marble and granite), but even with its limitations vinegar is an extremely versatile product to keep in your natural cleaning toolkit.
Lemon Juice:Fresh citrus, particularly lemons and lemon juice, is an amazing addition to natural cleaners. Lemons contain antibacterial properties which aid in fighting unwanted germs and bacteria in the home. Plus, citrus provides an amazing fresh scent to homemade cleaners.
3. Make your own hand wipes. See the recipe at the end of this post from The Healthy Home Economist, Sarah Pope's blog:
HOMEMADE DISINFECTING WIPES
Make your own disinfecting wipes and hand sanitizer for pennies. Made with non-toxic ingredients with reusable paper towels option for safe, convenient sustainability.
 Total Time 10 minutes
Servings 80 wipes
Author Sarah Pope MGA
 Ingredients
1 roll paper towels preferably made of sustainable, reusable bamboo.
2/3 cup 99.9% isopropyl alcohol
1/3 cup aloe vera gel preferably organic
2 drops anti-microbial essential oil optional (clove, tea tree, or thyme suggested)
Instructions
Mix the alcohol, aloe vera gel, and optional essential oil together in a glass jar to make a gentle but highly effective disinfectant. Pour into a cleaned, recycled hand sanitizer bottle. To make wipes, continue with additional steps below.
Cut each paper towel in the entire roll into four squares.
Make two stacks of the cut paper towels in a large glass bowl and pour the alcohol mixture evenly over them. Let stand until the liquid is fully absorbed.
If you find you need more liquid depending on the thickness of the paper towels you are using, mix up more alcohol/aloe vera mixture at a ratio of 2:1
Place the wipes in a large ziplock bag for convenient use at home or when traveling.
If using bamboo paper towels in order to re-use, store used wipes in a separate double seal ziplock bag for easy laundering as needed.
Recipe Notes
Make three batches of disinfectant wipes so that you have plenty of time to launder before you reach the end of the third bag.
In a pinch, you can use ethanol or even 190 proof vodka to make your hand sanitizer or wipes.
Hopefully, this gives you a few ideas on how to keep your hands clean when on the go!
In Health
Dr. Jen