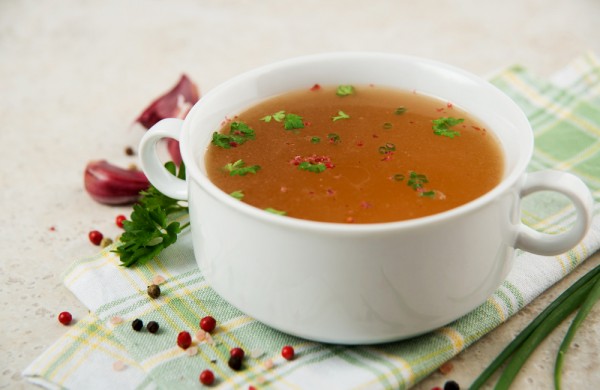 My husband tells me I am a woman of extremes. How can I take an inexpensive recipe like "a broth" and make it expensive? Well… add a whole duck! So no, it's not a recipe you make every week but believe me it is absolutely DIVINE and the best bone broth you'll ever make! I use a whole duck, legs and all and mix this with marrow bones. It makes for the most delicious, delicious broth and I love to use small amounts of the broth to make an incredible duck risotto. You're welcome!

Ingredients:
11/2 kg whole duck (legs and fillets included)
1 kg of beef marrow bones or knuckles bones
2-3 tablespoons of coconut oil for roasting the duck and bones
5 – 6 cloves of garlic coarsely chopped
2 small onions coarsely chopped
3 celery sticks coarsely chopped
1 medium sweet potato coarsely chopped
2 kale leaves coarsely chopped
1 large zucchini coarsely chopped
1⁄2 cup dried shiitake mushrooms (optional)
Filtered water enough to cover
1⁄2 cup of apple cider vinegar
1 tablespoon of peppercorns
1-2 teaspoon of rock salt (less or more to taste)
2 tablespoons mirin
2 tablespoons of cardamom
1 cinnamon stick
1 whole star anise

Method:
Typically one "roasts" the duck and bones prior to making the broth – if however you don't have time then don't stress you will still be able to make a successful broth it just won't be quite as tasty as when you roast them first.

1. Rinse and clean the duck and bones with water, pat dry and rub with
coconut oil.

2. Roast the bones with the garlic at 400F (200C) for 45 minutes to an hour, turning once. Cook until they are well browned. This ensures good flavour when cooking the broth.

3. Chop all of your vegetables roughly and set aside.

4. Once roasted, add the bones as well as all of the juices and vegetables into either a large pot or a slow cooker.

5. As the water first begins to boil, skim off any foam that rises to the surface.

6. Once boiling, add the apple cider vinegar and bay leaves.

Cook as per one of the two methods below.

For a STOCK POT: Skim off any scum, and then turn down the heat to maintain a low simmer. Cook, covered for 12 -24 hours, or until the bones are
soft. Check occasionally and add water if needed to keep bones and vegetables submerged. Cooking on the stove top is the traditional way to make a broth but it takes a lot of babysitting, so make sure you check it frequently. Patience is key!

For a SLOW COOKER: Cover and set to cook on low for 24 hours. (You can actually simmer it for days; some say that the longer you cook your broth, the more nutrient-rich it becomes.) The advantage of using a slow cooker to make your broth is that you can leave the house without fear of it catching and burning. All broths take time, so plan ahead.

7. Throughout the simmering process, skim off any scum and add water as needed to keep bones covered.

8. When the stock has finished simmering, allow it to cool. Strain the broth through a fine mesh sieve to filter out the bones and veggies. You may wish to re-use these vegetables. You could add them to the strained stock and use a hand blender until combined.

9. Once it's chilled, the bone broth should transform into a jiggly gel – this is a sure sign it's loaded with gelatin. Don't worry it turns right back to liquid once it's heated. The fat should have risen to the top. Pick off the excess fat and
reserve it for cooking.

STORAGE: The broth will keep in a covered container for up to a week in the refrigerator and up to 6 months in the freezer. The chicken flesh can be stored in a container in the fridge for 2-3 days.

TIP: You can drink your broth straight seasoning with salt and pepper. It makes for a wonderful breakfast on a freezing cold morning. Typically though I add this broth to duck risotto. Oh my – it is so good!!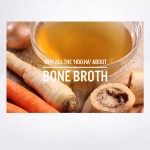 This recipe is an extract from my new eBook Why All The 'Hoo-Ha' About Bone Broth – for more recipes and information download the full eBook now for just $6.95! For three days only if you purchase a Well Adjusted Babies you will recieve a Which Foods When Chart and my Bone Broth eBook FREE! Take advantage of this offer here: Take advantage of this offer here!


. . . . .


Yours in Health,


Jennifer Barham-Floreani
(Bach. Chiropractic, Bach. App Clinical Science
Registered internationally, no longer practicing as a chiropractor in Australia.)

. . . . .