This cake is absolutely delicious hot or cold. Depending on your mood you can add or leave out the syrup. It is moist either way and it is complemented beautifully by sweetened, organic yoghurt. This pear cake is definitely one of our family favourites!
Ingredients: (please use organic wherever possible)
Cake:
1 teaspoon coconut oil (to grease pan)
3 medium pears (see method for their preparation)
1 teaspoon lemon juice (to splash over pear pieces)
200g (approx. 1 cup) butter, at room temperature
120g (3⁄4 cup) coconut sugar
2 free-range eggs, beaten
120ml (approx. 1⁄2 cup) maple syrup or agave syrup
185ml (3⁄4 cup) organic milk / rice milk
2 tablespoons organic apple juice
1 pinch of sea salt
160g (approx.1 cup) self-raising gluten-free flour
70g (approx. 1⁄2 cup) coconut flour
55g (approx. 1⁄2 cup) almond meal
2 tablespoons raw honey

Glaze:
1 teaspoon cinnamon
2 tablespoons butter, melted

Method: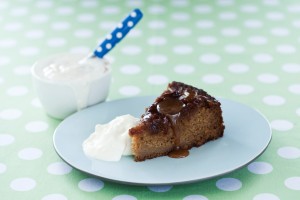 1. Preheat the oven to 180°C/350°F.

2. Grease a deep 23cm cake tin or baking pan with the coconut oil and line with baking paper.

3. Peel and remove the cores of the pears.

4. Finely chop 11⁄2 pears (for adding to the mixture).

5. Slice the remaining 11⁄2 pears (these will be used for cake decoration).

6. Sprinkle lemon juice onto the pears to prevent browning and set aside. 
(Tip: if you are using organic pears or you wash the pears in a fruit-and- vegetable wash, then it is fine to leave the skins on, as they provide extra fibre.
Otherwise, you can peel the pears before chopping.)

7. In a medium bowl, sift together the self-raising flour and coconut flour, and stir in the almond meal.

8. In a large bowl, using an electric beater or cake mixer, cream the butter and coconut sugar. Continue beating for a few minutes until the mixture is smooth and creamy. It should be light in colour and not lumpy.

9. Add the beaten eggs a little at a time, whilst continuing to mix.

10. When the eggs have thoroughly combined into the mixture, add the maple syrup, milk, apple juice and salt. At the same time, gradually add the dry ingredients.

11. Mix until well combined.

12. Fold in the chopped pears and stir gently with a wooden spoon.

13. Place the cake mixture into the pre- prepared cake tin and neatly arrange the sliced pears on top of the cake in a fan shape if desired.

14. Drizzle 2 tablespoons of honey over the top.

15. Place in the oven and bake for 50 – 55 minutes or until the cake is just firm and browned slightly
.

NOTE: Check the cake after 20 minutes. If you feel the cake is scorching or browning too quickly, remove it from the oven and cover with baking paper.

16. While the cake is in the oven, make a glaze by gently heating the butter, and cinnamon together in a small saucepan until all the ingredients are dissolved.

17. Remove the cake from the oven and remove the baking paper (if using). Spread the glaze over the top with a pastry brush. Return the cake to the oven and bake for a further 10 minutes.

18. Remove from the oven and leave the cake to cool in the tin for 30 minutes before turning out on a serving dish.

19. Slice and serve with natural/organic yoghurt sweetened with agave or a butter and coconut sugar syrup.



This recipe is extracted from my co-authored iBook, Lunchbox Solutions. For over 100 healthy, gluten-free recipes plus helpful nutritional information for you and your family please click through to our purchase page: Lunchbox Solutions.


. . . . .


Yours in Health,


Jennifer Barham-Floreani
(Bach. Chiropractic, Bach. App Clinical Science
Registered internationally, no longer practicing as a chiropractor in Australia.)

. . . . .