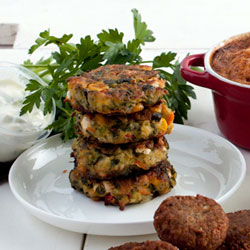 Zucchini Fritters
These little fritters are FABULOUS. They are ideal for dinner and make wonderful leftovers for lunch boxes, the extras however rarely last until lunch time the next day!
Alternatively you could make the batter the night before and fry the fritters in the morning and serve them with an egg.

Ingredients:
3 medium grated zucchinis (courgette) (approx. 2 cups, 600 grams / 21 ounces)
2 tablespoons sea salt
1 small onion, grated
1 small clove garlic, finely chopped
100g (4 ounces) feta, crumbled, or grated Parmesan cheese
1?4 cup chopped, red capsicum
1?4 cup sweet corn, fresh or canned (and drained)
1?2 cup finely chopped parsley, remove stems
2 tablespoons finely chopped coriander (cilantro)
2 free-range eggs, well beaten
1/3 cup gluten-free flour
2 tablespoons brown rice flour
Black pepper (to taste)
2 tablespoons coconut oil
Method:
Place the grated zucchini into a colander or large sieve. Sprinkle with the salt and toss through, then leave for 20 minutes to drain.
Start to prepare the chopped herbs and vegetables whilst waiting for the zucchini.
After 20 minutes, rinse the zucchini thoroughly under cold water and squeeze it to extract as much liquid and salt as you can. Pat dry with a paper towel.
In a large bowl, mix the zucchini, onion, garlic, feta or parmesan (to save time, you could purchase pre-grated parmesan), capsicum, sweet corn, herbs and the beaten eggs. Mix well.
Sift in the flours and add the pepper, and stir to combine.
In a large frying pan, heat 1 tablespoon of the coconut oil over high heat. When the oil is melted and is hot, drop approximately 1?4 cup (approx. 70g if you are making large fritters), of the batter into the pan and flatten gently.
Reduce the heat to medium and cook for 2-3 minutes on each side, or until golden brown edges appear — this is time to flip the fritter!
Drain the fritters on a paper towel and serve immediately. If they are for lunchboxes, allow to cool and keep refrigerated until use.
NOTE: The fritters will keep for 3 days in the fridge and can be frozen.
. . . . .
Banana and Coconut Pancakes (Grain-Free)
This recipe is from "The Green Kitchen" cookbook (my favourite cookbook at the moment) and they are EXTREMELY good and super easy.

Ingredients:
3 ripe bananas
6 eggs, lightly beaten
50 grams (1.2 cup) desiccated coconut, plus extra for sprinkling
150 grams (1 cup) of blueberries,
1/2 teaspoon ground cinnamon
2 teaspoon of coconut oil, for frying
Maple syrup, yoghurt, extra blueberries and sliced bananas for serving.
Method:
In a bowl mash the 3 bananas with a fork then add 1/2 cup of coconut, a cup of blueberries, 1/2 teaspoon of cinnamon and mix thoroughly.
In another bowl whisk 6 eggs, then add this egg mixture to the banana mixture and mix well.
Heat coconut oil in a frypan and add two to three tablespoons of batter for each pancake. This allows you to cook 3-4 pancakes at a time.  
Use a spatula to flip the pancakes – about 2 minutes on the first side and 1 minute on the other.
Stack the pancakes and serve with blueberries, sliced banana, maple syrup and yoghurt. Sprinkle with extra coconut.
TIP: If you keep them small and use plenty of coconut oil then they don't tend to stick.
. . . . .
Enjoy!!
—Jennifer