What are the risks of using cleaning products that contain chemicals that may turn out to be cancer causers? This question hasn't been studied very often.
Here's what the Environmental Working Group says on this topic:
One recent retrospective study by the Silent Spring Institute that surveyed 1,500 Massachusetts women, half of whom had been diagnosed with breast cancer, suggested a link between using household cleaners and cancer (Zota 2010). Women who reported the greatest use of cleaning products (top 25 percent) were twice as likely to have been diagnosed with breast cancer as those reporting the least use (bottom 25 percent).
A higher risk was also associated with frequent use of air fresheners, especially solid ones, and mold- and mildew-control products. The study authors cautioned that the evidence was not clear-cut, because some women's responses could have been affected by their subjective beliefs that chemicals and pollutants might have contributed to the development of their illnesses.
More research is urgently needed to investigate possible links between chemicals in cleaning supplies and cancer. While it's clear that many common cleaners contain carcinogenic ingredients or impurities, scientists do not know to what extent these exposures may contribute to cancer risk.
EWG's survey of product ingredients disclosed by manufacturers found that many cleaners may be laced with known, probable or possible carcinogens, including:
Formaldehyde (sometimes called formalin).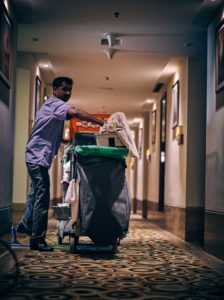 Designated by the U.S. government and World Health Organization as a known human carcinogen, formaldehyde is listed on labels or worker safety documents as an ingredient in dozens of cleaners in the EWG's Guide to Healthy Cleaning. Formaldehyde may also be generated in cleaning product containers by formaldehyde-releasing preservatives such as bronopol (also known as 2-bromo-2-nitropropane-1,3-diol). In this situation, manufacturers do not add formaldehyde itself to the product, but instead, they add preservatives that release formaldehyde in order to kill bacteria and extend the product's shelf life.
EWG's tests of cleaning products used in California schools detected formaldehyde in Comet, Pine-Sol, and Simple Green cleaning products. Formaldehyde vapors have been detected when citrus- and pine-based ingredients mix with ambient ozone inside homes (CARB 2008). Formaldehyde formation is worst on smoggy days, when ozone levels are high.
Classified as a probable human carcinogen by the EPA, this chemical has been detected in a number of brand-name liquid laundry detergents (Steinman 2010). This substance is an impurity unintentionally formed during industrial processes that make synthetic ingredients such as PEG and polyethylene compounds. Several animal studies have found higher rates of liver tumors in animals exposed to 1,4-dioxane. Studies of occupational exposure have been inconclusive (EPA 2010).
Related Posts:
Chemicals To Avoid In Self Care And Home Care Products
Non-Toxic Yummy Toothpaste Anyone?
Triclosan: Is It Banned or Not Banned?
The Impact Of Household Chemicals On Your Health