The Environmental Working Groups (EWG's) survey of cleaning product ingredients disclosed by manufacturers identified several specific chemicals that are known or suspected reproductive or developmental toxicants. Here is there report.
These compounds are used to stabilize enzymes in laundry or dishwashing detergents and borax is a common ingredient in homemade cleaners as well. Sodium perborate, a form of oxygen bleach found in some cleaners, releases sodium borate during the bleach process. The European Union considers them toxic to human reproductive systems (ECHA 2011). Men working in boric acid-producing factories have a greater risk of decreased sperm count and libido.
Chronic exposure to high doses of borax or boric acid causes testicular atrophy in male mice, rats and dogs (EPA 2006). Female test subjects show reduced ovulation and fertility at higher doses. Animal studies of high-dose exposures to borax and boric acid have found that they can cross the placenta, affecting fetal skeletal development and birth weight.
Risk assessments by U.S. and E.U. agencies have not comprehensively examined exposures from cleaning supplies in relation to other sources of exposure such as pesticides, personal care products, food and water, making it difficult to assess the specific level of risk from borax or boric acid detergents and cleaning supplies (EPA 2006; European Commission 2007; ECHA 2008).
Boric acid is a candidate for the E.U.'s list of substances of "very high concern" for which health-protective regulation is a priority (ECHA 2010).
Diethylene glycol monomethyl ether.
This solvent is also known as DEGME or methoxydiglycol and is found in a few heavy-duty cleaners and degreasers. The European Union suspects this chemical of damaging fertility or the developing fetus (ECHA 2011) and has essentially banned it in cleaners (EU 2008).
Other chemicals in the glycol ether family have been linked to impaired fertility and reproductive and developmental toxicity in animal studies (EPA 2000; NTP 2000). Four are on California's Proposition 65 list of male developmental toxins. Occupational studies indicate that men exposed to glycol ethers on the job are more likely to have reduced sperm counts, and that pregnant women exposed on the job are more likely to give birth to children with birth defects (Cordier 1997; CDHS 2007). These solvents are readily absorbed through the skin or via inhalation and can reach toxic levels in the body.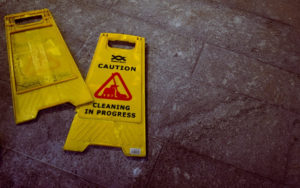 A 2010 study conducted by the New York State Department of Health that analyzed maternal occupation and 45 types of birth defects indicated that children born to women working as building custodians have a significantly increased risk of certain congenital deformities (Herdt-Losavio 2010).
Other occupational studies have highlighted risks of solvent exposure for a group of children born to women working with organic solvents during pregnancy. Some of the children in this category had reduced IQ and language skills (Till 2001; Laslo-Baker 2004) and vision abnormalities (Till 2005).
Few studies have probed the reproductive or developmental risks tied to cleaners, a troubling gap in our understanding of the potential effects of long-term exposure to these common consumer products.