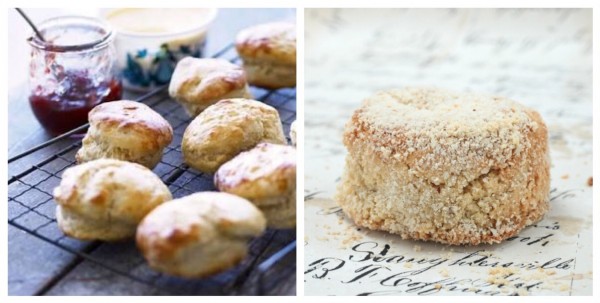 It's funny when you over hear your child speaking their truth. My 11 year old son Quin and his friend were chatting about my cooking the other day, this is how the conversation went…
Friend: Your mum is such an awesome cook!
Quin: Yer I know she's really good. She can't bake though. She's good at desserts but      not baking. She hates white flour and white sugar and she uses other things and most      of the time it's just a disaster. Seriously she can't bake like her mum…
Kids can be brutal! However, yes it's true, I am an appalling traditional baker but because Mother's Day is approaching I'll share with you my mums not very healthy, but famous and absolutely delicious scone recipe. I will also share Theresa Cutter's Almond and Vanilla scone recipe which is a healthier alternative to the traditional batch. So, go for gold with these recipes because unlike me, both of these women are baking experts! 🙂
Homemade, Traditional Scones
Prep time: 10 minutes
Cooking time: 20 minutes
Makes: Approx 15 scones
Ingredients:
Use organic ingredients where possible…
200ml of soda water
300ml of whipping cream
1 tablespoon of caster sugar
2 eggs
4 cups of self raising flour
Method:
1. Whisk 2 eggs, soda water, whipping cream and caster sugar together in a mixing bowl.
2. Add in the flour and stir with a knife.
3. Sprinkle some flour on a chopping board.
4. Place mixture on board and knead together.
5. Cut/shape mixture into balls, you can use a wine glass to cut evenly.
6. Flour and grease your baking tray, place mixture on top close together.
7. Brush with cream or egg yolk and place in the oven.
8. Bake for 20 minutes at 200 degrees.
Almond and Vanilla Scones
This recipe is by the wonderful Theresa Cutter. These scones are designed to be gluten and grain free which is perfect for those who are on digestive health eating plans. They are high in complete protein as well as being low GI, so they will fill you up, keep blood sugars steady and help your body repair and recover. For more recipes like this please visit www.thehealthychef.com.
Ingredients:
3 cups (300g/10½oz) of almond meal/ground almonds
2 teaspoons gluten free baking powder 
or ¾ teaspoon baking soda
¼ cup macadamia nut oil or cold pressed olive oil
1 tablespoon honey or organic maple syrup
2 teaspoons vanilla bean paste
2 free range eggs
Strawberry + vanilla jam to serve
Method:
1. Preheat your oven to 150C/300F.
2. Combine almond meal and baking powder.
3. Add the oil, honey, vanilla and egg.
4. Mix into a soft sticky dough.
5. Dust your working surface with a little almond meal.
6. Place over the scone dough and flatten out to 3 cms thick.
7. Cut into small rounds and place onto a baking tray.
8. Bake for 20 – 25 minutes or until golden and your scones are cooked through.
9. Remove from the oven and cool.
10. Serve alone or with your choice of whole fruit jam.
*Makes 12 scones
Cooking note: Add a handful of sun-dried fruit such as plump raisins or apricot.
Fold in 100 g dark 70% chocolate pieces before baking and enjoy slightly warm whilst the chocolate is still oozing.
Enjoy!
Original Recipe: www.thehealthychef.com/almond-vanilla-scones
Images via Pinterest and www.thehealthychef.com.